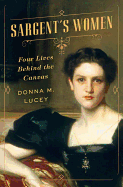 The son of nomadic expatriate Americans on the fringes of high society, John Singer Sargent settled in England in the late 19th century and remarkably cranked out more than 900 portraits and thousands of landscapes. Four of these portraits completed in the 1890s feature American women of great wealth and pedigree. For eight years, historian Donna M. Lucey (Archie and Amélie: Love and Madness in the Gilded Age) researched the letters, journals and archives of these formidable women and their families to flesh out the stories behind their often eccentric and accomplished lives.

Sargent's enigmatic portrait of Elsie Palmer shows a face "steely and cold," yet this daughter of a Colorado mining tycoon lived into her 80s, caring for ailing members of her family. Beautiful young Boston heiress Sally Fairchild wears a translucent veil alluringly hiding her face, but it was her less attractive sister Lucia who went on to some fame. Elizabeth Chanler and her siblings grew up daredevils in a world more "Lord of the Flies than Peter Pan's Neverland."

Sargent's Women concludes with perhaps the most famous of these heiresses, Isabella Stewart Gardner--who was the subject of two Sargent portraits and was his longest and most significant benefactor. She had the money and taste to amass a significant art collection, which now sits in her eponymous museum among Boston's Fens. With thousands of paintings, drawings, sculptures, textiles, ceramics, books, glass, furniture and assorted historical bric-a-brac, her collection was one of a kind. Rather than focusing on Sargent, Lucey wisely concentrates her attention on these women who epitomized their class and times. Sargent only painted them. --Bruce Jacobs founding partner, Watermark Books & Cafe, Wichita, Kan.