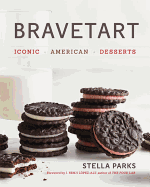 Stella Parks's eagerly awaited Bravetart: Iconic American Desserts offers a bounty of classic and fondly remembered desserts that can be replicated at home. Parks, senior editor at Serious Eats, develops recipes that, as J. Kenji Lopez-Alt of Food Lab writes in his enthusiastic introduction, "strike a balance between comfort and quality."

BraveTart was the nickname for a collaboration Parks had with a friend, which turned into a successful food and writing blog. She developed the cookbook out of the blog with the goal of creating a repository and history of these distinctly American recipes.

BraveTart collects more than 75 recipes, along with color photography from Penny De Los Santos and vintage advertisements, in three main sections: classic American desserts, brands (such as homemade Fig Newtons) and ice cream. While the ingredient lists may seem lengthy, Parks is known for making every element of her desserts by hand. True to form, she includes recipes for such things as chocolate sprinkles and homemade Heath toffee bits so that home bakers can try their hand at these iconic flourishes as well. Parks has strong opinions on a few elements: weighing ingredients, for example, is something she stresses--but she also encourages bakers to "mix it up" and try variations at home.

Stella Parks offers a master lesson in baking techniques and a lively guide to some little known food history. --Cindy Pauldine, bookseller, the river's end bookstore, Oswego, N.Y.