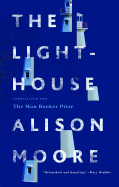 Shortlisted for the Man Booker Prize, Alison Moore's The Lighthouse is both a thriller and an elegiac look at memory in the vein of W.G. Sebald's The Rings of Saturn. Following a newly divorced man as he goes on a walking tour of Germany, Moore's novel builds in tension as it plumbs what it means to be loved, and how the small traumas of youth can last throughout one's life.

The Lighthouse follows Futh (his first name is rarely, if ever, mentioned) on the walking tour, tracing a path along the Rhine that begins and ends at a hotel run by Ester and Bernard. An abusive and jealous husband, Bernard erroneously assumes Ester has had a fling with Futh, sending him into a rage that looms over the story. Futh, unaware of the trouble brewing at the hotel, is awash in memory as he walks. The Lighthouse alternates between chapters that focus on Futh and the growing tension between Ester and Bernard at the hotel, which he will walk right into upon his return. That tension generates more propulsion than is associated with Sebald's work, though they are equally dreamy and interested in memory.

Moore's triumph is that she manages to thread the needle, creating a haunting, elegiac book that is very hard to put down. Readers will most likely finish The Lighthouse quickly; its images will remain with them long after. --Noah Cruickshank, adult engagement manager, the Field Museum, Chicago, Ill.