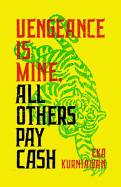 Vengeance Is Mine, All Others Pay Cash is Eka Kurniawan's bizarre follow-up to his critically acclaimed novels Beauty Is a Wound and Man Tiger. The Indonesian author has won international fans with his surreal, over-the-top style. With Vengeance Is Mine, All Others Pay Cash, Kurniawan leans into pulp storytelling in a short, hyperactive burst of literary energy.

The cheeky title sets the mood for a story that revolves around violence and sexual dysfunction, following Ajo Kawir, whose chief preoccupation is his inability to achieve an erection. Kawir refers to his penis as "the Bird," often speaking to it or musing on its quiescence: "the Bird thought it was a polar bear hibernating through a long frigid winter. It was dreaming of gently falling snow, which its master had never seen." The juxtaposition of prurient subject matter and a graceful, almost dreamy style typifies Kurniawan's writing as well as the novel's oddball sense of humor.

Which is not to say that Vengeance Is Mine, All Others Pay Cash is always a laugh riot: Kawir's dysfunction is caused by a brutal childhood trauma and inhibits his relations with women, especially his beloved Iteung. Kawir meets her while she's acting as a bodyguard for a man he wants to kill. After fighting each other to a bloody standstill, they begin a charming but ill-fated courtship. Kurniawan is fond of bouncing through time, letting present and past events mingle. The novel thrives by creating a chaotic momentum that will prove irresistible to readers. --Hank Stephenson, bookseller, Flyleaf Books, Chapel Hill, N.C.