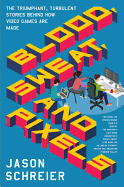 Most people know little about the process behind creating video games. Even players, casual or otherwise, usually have a only a cursory understanding of how many people, years and iterations it takes to make their favorite games. Jason Schreier's Blood, Sweat, and Pixels pulls back the curtain, diving deep into the creation of 10 games to show how difficult the process is. Readers may be amazed that games are completed at all.

Using each chapter as a case study, Schreier (a respected games journalist and news editor at the website Kotaku) interviews designers, studio heads and other makers about the rough road to publication. Each game he studies faced a catastrophe before launching, and Schreier uses their examples to make broader observations about the industry and games as an art form. Blood, Sweat, and Pixels isn't necessarily trying to make philosophical points about the nature of gaming, or art, but by exposing how people craft games, he gives the reader a better perspective as to why video games exist as they do.

Schreier runs the gamut of games, from those that cost millions of dollars with hundreds of employees, to Stardew Valley, one man's five-year solo project. With lively writing, Schreier observes how small, medium and large studios tackle a range of problems. For fans of video games, Blood, Sweat, and Pixels is a must read, but anyone interested in stories about the hard process of making art is also sure to enjoy it. --Noah Cruickshank, adult engagement manager, the Field Museum, Chicago, Ill.