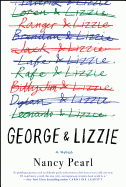 George and Lizzie--a clever, inventive and funny first novel by "America's librarian" Nancy Pearl--examines what it takes for young lovers finally to come into their own, deal with their pasts and places in the world and solidify their relationship.

In the 1990s, George and Lizzie meet by chance: Lizzie--drunk on vodka, stoned and heartbroken over losing a guy she loved--is taken to a bowling alley by her college roommate, who longs to heal her friend. In the adjacent lane of the Bowlarama is George, a dental student high on happiness while out to impress "the current woman of his dreams." The two pairs of strangers bowl side-by-side until Lizzie loses control of her ball, disrupting a potential strike for George and what could've been a stellar game. The mishap launches a narrative imaginatively woven together through short episodes about the pair--who they were before their fateful meeting, the history and influences that shaped their lives and how they eventually evolve individually and, later, as a married couple.

Lizzie and George have opposing views of the world. As a result, the opposites-attract nature of their decade-long romance--rife with complications and various references to literature and football--helps them to grow in unexpected, often over-the-top ways. With humor and heart, Pearl mines the absurdities of life to great effect, while also unraveling a much deeper, moving love story that touches upon thought-provoking aspects of family, happiness and truth. --Kathleen Gerard, blogger at Reading Between the Lines.