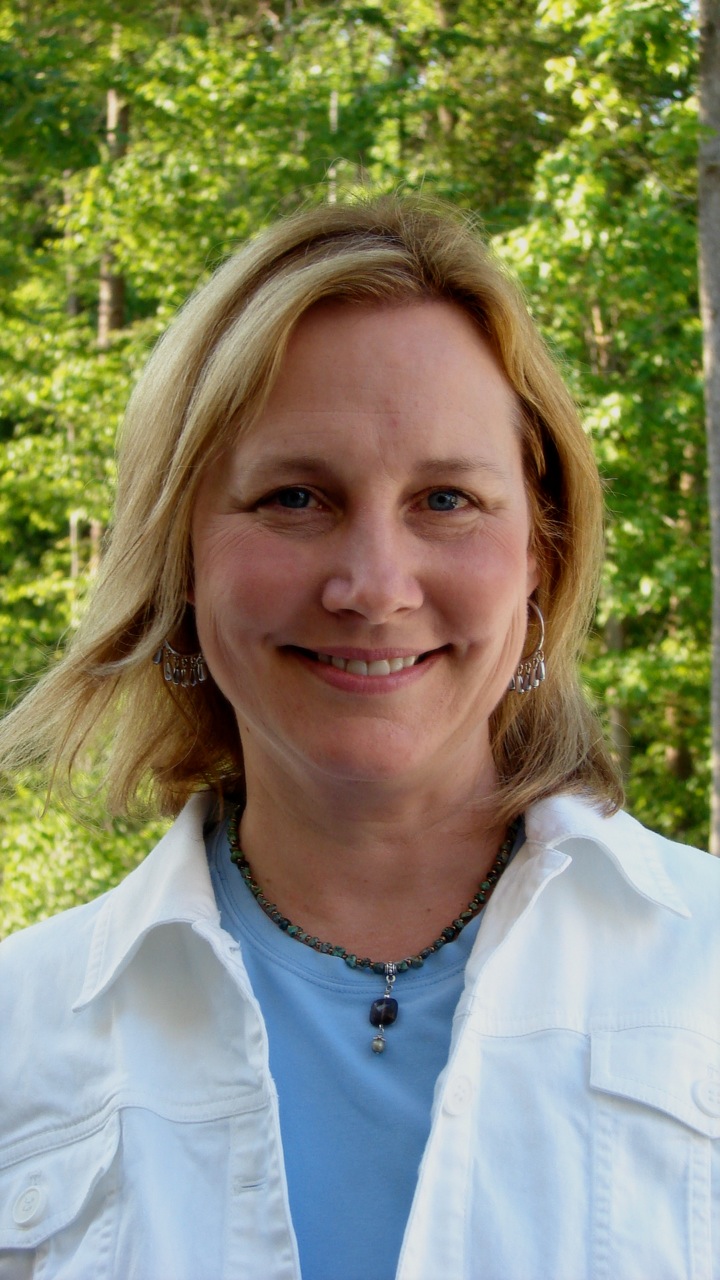 Katherine Applegate is mistress of many genres, having written about a mall-dwelling gorilla in the Newbery-winning The One and Only Ivan; kids who can transform into superhero animals in the Animorphs series; a giant imaginary cat in Crenshaw; not to mention a YA science fiction thriller (Eve and Adam) and Harlequin romances. In Wishtree, she digs deep into her imagination once again, creating a story about an ancient, wise, funny tree who reaches beyond his roots and crown to give back to the world that gave him life.
There's a certain kind of kid for whom a talking tree would be a dream come true. Were you one of those?
Well, my first choice would have been a talking dog, but the more I read about trees, the more I wish I could have a long heart-to-heart chat with one. (Highly recommended: The Hidden Life of Trees by Peter Wohlleben--you'll never look at a tree the same way again.)
When I was growing up in Michigan, we had this lovely birch tree in our front yard that was a great companion. (Oh, how I longed to put a treehouse there, but it wasn't up to the challenge.) To this day, I can't look at a birch without a hint of nostalgia.
Red is a 216-"ring"-old northern red oak with an incredibly strong, appealing personality. Did you know, going into Wishtree, what his personality would be?
I'm so glad to hear that you liked Red. It's truly fun to watch a character evolve as you write. Red is old enough to have seen a great deal, both good and bad, and he has a tendency to offer "wise old tree" advice, which drives his animal friends crazy.
I liked creating a character who was quite comfortable in his own skin (bark?), one who's capable of saying, "It is a great gift indeed to love who you are." Still, Red wonders if he's done enough for the world, and he wants to do more. That's a good place for anyone to be.
What moved you to write about a Muslim family who were told to "leave" their community?
I wrote Wishtree during the election, in a state of stunned disbelief at how vitriolic and frightening the political season had become. I wanted to talk about hate crimes in an accessible way, one that even the youngest reader could understand. I knew there wouldn't be any simple answers. But I wanted to at least start a conversation where kids asked themselves, "Why are those people being treated unkindly? Are they really so different from me?"
What are the motivations and inspirations for your books?
Kids always ask where ideas come from, and I always answer the same way. You just need two words: "What if?" I never have a shortage of ideas--most writers will tell you the same thing. The hard part is deciding which one will keep you sitting at your desk day after day, when things get tough. For me, that always comes down to a visceral reaction, something that truly energizes me.
Often the news plays a role. With The One and Only Ivan, it was a story about the real Ivan's uncertain future as he languished in a shopping mall in Tacoma. With Wishtree, it was the spate of stories about anti-Muslim hate crimes. In fact, I was tweaking the final manuscript of Wishtree when I came across this ugly headline in the Washington Post: " 'You can all go home now': Police Investigate Hate-filled Note Targeting Iowa Muslim Family."
Life imitating art imitating life.
Talking animals play a large part in many of your books, including Wishtree. Do you find that young readers sometimes relate better to animals than to human protagonists? Are animals better at putting forth certain messages?
I'm not sure if it's the slight remove from the complicated world of humans that makes it easier for kids to relate to animal stories, or if it's just that animals are so darn cool. Maybe a little of both.
It helps that kids feel a tenderness and protectiveness toward animals. Both children and animals are vulnerable to the whims of adult humans, after all, and both have unique perspectives on the world.
The humor in Wishtree is wonderful--sometimes sophisticated, sometimes juvenile (as when Bongo begs to make "deposits" on the heads of certain deserving individuals). How important do you think it is for children's books to appeal to adult readers, too?
It's great when that happens. (I speak for parents everywhere who've been forced to reread the same book 4,568 times.)
But in the end, if a kid loves a book, that's all that matters, as far as I'm concerned.
You've written an incredibly wide range of books besides Wishtree. Do you have a favorite genre?
It feels like such a luxury to be able to experiment! Perhaps that comes from writing too many series books early in my career.
I dearly love writing for middle graders. They're the perfect audience: inquisitive, idealistic, imaginative. And the length is right for me. I'm more "chamber music" than "symphony" when it comes to novels. I hate putting those first words down on paper, but I love chopping and pruning (two of Red's least favorite words.) Any genre will do!
Are you a tree climber?
I'm barely a stair climber.
What have you wished for?
When Macmillan sent out advance reader's copies of Wishtree, they created a beautiful box covered with wishes from the staff. My wish was for "a world full of welcomers." (The dedication to Wishtree reads "for newcomers and for welcomers.")
However, I wouldn't argue if someone sent me a full-time chef/masseur.
What's next for you?
I'm just starting a new middle-grade novel. I love this part of the writing process. Anything seems possible, and it's too soon to know all the ways you'll go wrong.
Ask me again in a month when I'm throwing my keyboard against the wall in frustration. Repeatedly.
Anything else you'd like to share with the readers of Shelf Awareness?
Just a big and heartfelt thanks for loving books the way they do. I'm a late-blooming reader, which makes every new book I fall in love with especially sweet. --Emilie Coulter