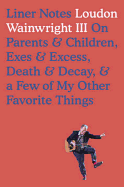 Maybe all memoir-writing musicians who survived the '60s eventually find the wisdom and perspective that comes with age. Even the recent memoirs by hard-living hard-rockers like Keith Richards, Chrissie Hynde and Billy Kreutzmann depict them as mellow in their old age. Loudon Wainwright III is no exception, but his Liner Notes refreshingly focuses on the writer side of his singer-songwriter persona and career. Wainwright chooses excerpts from his autobiographical songs, old family photos, newspaper clippings and even examples of his celebrated father's Life magazine columns. As a result, his memoir is the self-effacing chronicle of a privileged kid with a taste for drugs, booze, women and the stage--a man who seldom tried to be anything more or less than he was.

Although Wainwright was heralded by critics after his first album in 1970 as "the new Bob Dylan," the public was not equally impressed. His early records were commercial failures until the unlikely novelty tune "Dead Skunk in the Middle of the Road" hit the top 20 on 1973's Billboard Top 100. He accepts this somewhat embarrassing fame--resigned that "the skunk thing, I fear, will be the lead item in my obit... [but] better a song about roadkill than one about getting high on a mountain in Colorado."

Wainwright may be a melancholic guy ("I've had the blues for about sixty years now"), but Liner Notes is mostly lighthearted musings at the ups and downs of his life in music (26 albums so far), TV (Mash, SNL) and movies (The 40-Year-Old Virgin, Knocked Up). It is the story of a raconteur with a knack for taking it all in and putting it back into song--or into this dandy self-portrait of a life well lived. --Bruce Jacobs, founding partner, Watermark Books & Cafe, Wichita, Kan.