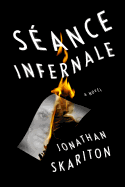 Alex Whitman is haunted by his daughter Ellie's kidnapping and presumed death by a serial killer in Scotland. Since Ellie's disappearance, Whitman dulls his pain by immersing himself in the world of vintage movie memorabilia: "the loss set him on a course for his next find, whatever that might be, wherever it may take him." His obsessions collide in Séance Infernale, Jonathan Skariton's debut thriller.

Whitman, living in Los Angeles, travels to his native Edinburgh for the first time since Ellie's disappearance to acquire the earliest moving picture, "Séance Infernale." There he is stunned to learn that Ellie's abductor may be kidnapping again. In alternating voices the characters come into focus. The serial killer reveals his accelerating madness. Edinburgh Detective Georgina McBride is working against the clock, and outside department regulations, to find the killer before he chooses another child. Whitman, whose nightmares of Ellie have increased as he unravels the film's mystery, makes an alliance with McBride as she moves closer to uncovering the killer.

"Two objects can't interact without leaving traces on each other," says one detective, and indeed the slightest convergence of events are often more than they seem. As the alternating points of view let readers know what is happening outside Whitman's reality, he is still unaware, and the omniscient knowledge creates an emotional investment in the characters and a feeling of urgency as the killer moves closer to his target. When Whitman finally discovers the film's horrible secret, it leads him to the answers that bring down a monster. --Cindy Pauldine, bookseller, the river's end bookstore, Oswego, N.Y.