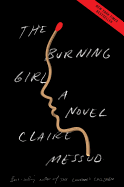 Celebrated American novelist Claire Messud (The Emperor's Children) turns her keen eye to coming-of-age in The Burning Girl, a story of two young women torn apart by the simple act of growing up. While the plot is age old, Messud shows how even well-trod roads may still reveal undiscovered gems.

The Burning Girl is narrated by Julia, a high school senior with a comfortable life in a small Massachusetts town and a bright future ahead of her. Since she was very young, she's been best friends with Cassie, a spirited girl living with her single mother. As puberty hits, Cassie becomes more outgoing and seeks new, dangerous friends; meanwhile, her mother, Bev, begins a romance with a controlling doctor who may or may not have designs toward Cassie. As Julia and Cassie's relationship deteriorates, Cassie's behavior becomes increasingly alarming, until her estranged friend is called on to pull her back from the brink.

The "may or may not" about the doctor's intentions is important for how The Burning Girl reads. Julia is aware of most of what happens to Cassie, but must speculate here and there, building up from what she knows about her former friend and what she hears from others (she often relays information to the reader that is second- or third-hand). Sometimes Julia admits her limits to understanding Cassie, but still speaks with certainty even when it's clearly just her own projection. That bit of unreliability allows Messud some breathing room inside the standard coming-of-age plot. Julia knows how these stories are supposed to work, and maybe--just maybe--she's fitting what has happened into that structure. --Noah Cruickshank, adult engagement manager, the Field Museum, Chicago, Ill.