Summer is over, school has begun and Shelf Awareness can't wait for the holiday season, which in October includes Diwali, Sukkot, Halloween and the Day of the Dead. Celebrate, enjoy and learn with these outstanding picture books!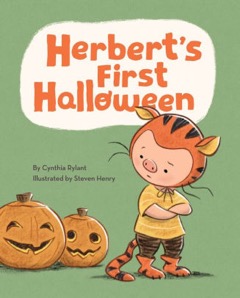 Although Herbert, a young pig, is "not sure" about his first Halloween, his wonderful father loves it. He explains about the costumes ("Can I be a tiger?" Herbert asks), the pumpkin carving (they call it Jack) and the candy ("On Halloween, it's everywhere," Dad says.) By the end of Herbert's First Halloween (Chronicle, $15.99, hardcover, 32p., ages 2-4), the piglet is quite sure that he likes Halloween after all. Cynthia Rylant (Missing May; Life; Little Penguins) and illustrator Steven Henry introduce readers to the mixed feelings that sometimes accompany Halloween in this adorable picture book.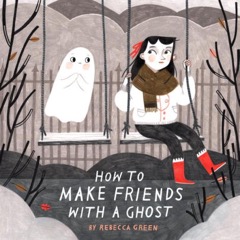 Rebecca Green gives step-by-step lessons on befriending ghosts in her debut solo picture book, How to Make Friends with a Ghost (Tundra/Penguin Random House, $17.99, hardcover, 40p., ages 4-8). This thorough guide covers feeding (favorite treats include earwax truffles and spider web sushi), cauldron bathing and even trick-or-treating (everyone will think it's a ghost costume!). Green warns against hazards such as accidentally using your ghost as a tissue and describes ways to handle growing up together (she suggests a "take your ghost to work day"). Readers will love the cool, pale gray illustrations tinged with occasional red notes and chuckle at the straight-faced tone of the "guide."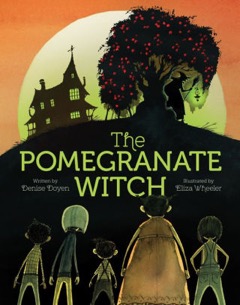 Every year, a spooky old tree groans with the weight of gorgeous ripe--and forbidden--pomegranates. Neighborhood children covet the fruit but, alas, "there was a nasty hitch/ The tree was owned and guarded by the Pomegranate Witch!" For The Pomegranate Witch (Chronicle, $16.99, hardcover, 40p., ages 5-8), Eliza Wheeler's (Wherever You Go; Miss Maple's Seeds) lovely dark silhouetted pictures of the massive tree, the spooky house and the witch herself, along with marvelous wordplay and invented words like "ripplesnaked," and "shivershook" by children's poet Denise Doyen (Once Upon a Twice), make this a Halloween winner.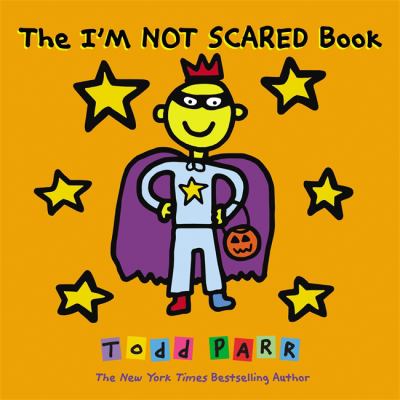 Todd Parr is a master of the literary equivalent of comfort food. In The I'm Not Scared Book (Little, Brown, $11.99, hardcover, 32p., ages 3-6), now in paperback, Parr brings the same love, reassurance and understanding he brought to The I Love You Book, It's Okay to Be Different and many others. On each spread, Parr's quintessential yellow- and purple- and blue-skinned children express fears like "Sometimes I'm scared of monsters and ghosts." Opposite is the follow-up: "I'm not scared when I see that they aren't real." Serious and silly blend sweetly in this lighthearted and colorful book.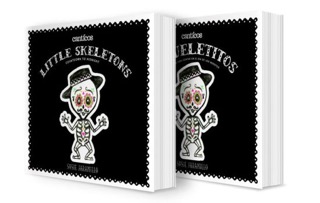 Playfully decorated black-and-white skeletons (esqueletitos) frolic across the pages of Susie Jaramillo's reversible board book celebrating Day of the Dead. Little Skeletons/Esqueletitos: Countdown to Midnight (Canticos, $19.99, board book, 22p., ages 1-4)--like Jaramillo's Los Pollitos/Little Chickies and Elefantitos/Little Elephants--features an accordion design board book with verses in Spanish on one side and English on the flip side. Young readers will enjoy moving the hands of the clock as they chant along with the traditional Mexican counting song: "When the old clock strikes the hour of one,/ out of the tomb-a skeletitos rumba./ Tomb-a-laca tomb-a-laca tomb-a tomb-a." A free sing-along app teaches reading, phonics, counting, telling time, music and rhythm.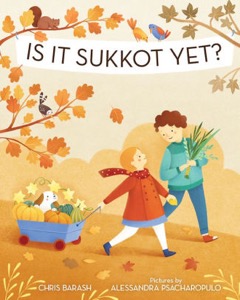 Sukkot is a joyful Jewish harvest festival that also commemorates the 40-year sheltering of Israelites in the wilderness. Families build and decorate a temporary shelter called a sukkah to celebrate. In Is It Sukkot Yet? (Albert Whitman, $16.99, hardcover, 32p., ages 4-8), Chris Barash captures the anticipation leading up to the holiday with rhymes: "When the toolbox comes out/ and the hammers bang hard/ As we put up the hut that will stand in our yard.../ Sukkot is on its way." Alessandra Psacharopulo's autumnal-hued illustrations feature leaf piles, nut-gathering squirrels and happy families. A natural companion to Barash and Psacharopulo's Is It Passover Yet?, Is It Hanukkah Yet? and Is It Purim Yet?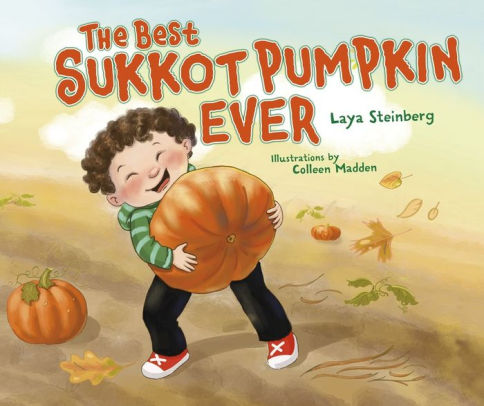 Young Micah is thrilled to visit a pumpkin patch to find the The Best Sukkot Pumpkin Ever (Kar-Ben Publishing, $7.99, paperback, 32p., ages 4-7) to decorate his family's sukkah, but when he learns that the rest of the farm's pumpkins will be used to feed people who don't have enough to eat, he reconsiders his "perfect" pumpkin. Laya Steinberg and Colleen Madden capture the true meaning of he harvest festival of Sukkot in this gentle tale.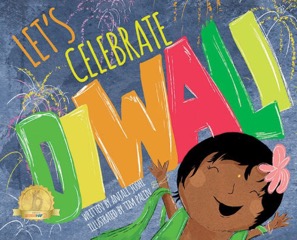 Diwali is the festival of lights for many Hindu, Buddhist, Jain and Sikh families. A little girl named Harini is excited to share her Diwali story at circle time, and is happily surprised to discover that several of her friends have similar and different Diwali stories to tell. In Let's Celebrate Diwali (Bharat Babies, $19.95, hardcover, 38p., ages 5-8), Anjali Joshi (Sarla in the Sky) and illustrator Tim Palin simply and gracefully describe some of the wonderful legends and history associated with the Indian holiday. --Emilie Coulter, freelance editor and reviewer