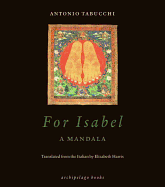 There's a reason Antonio Tabucchi's For Isabel carries the subtitle A Mandala. Structured in a way that mimics Buddhist iconography, the novel is an investigation, a journey and a prayer. Much like diving into a dream, or walking into a church, For Isabel has an aura of holiness as it moves toward its center: Isabel, a mysterious figure the narrator once knew.

The plot, such as it is, follows the narrator, a Polish author who awakens from death, as he interviews (and sometimes threatens) associates of Isabel in order to find her whereabouts. Each interview makes up a ring of the Mandala, and each one leads further along, providing more clues as to who Isabel is, and who the narrator was. If the spiritual element was removed, For Isabel would read like a crime novella: Isabel has a checkered past, working with revolutionaries and spending time in prison. But the spiritual element is indelible. Planes of existence are crossed, and the dead brought back to life, in order to reach the center of Tabucchi's project.

Luckily, that center is worth its intrigue. Isabel's path through life, and the narrator's path following her, is filled with brilliant twists and turns, spanning continents and lifetimes. Even a clever reader won't be able to guess every direction the story takes, though it would be wrong to say For Isabel has twists. Instead, it invites you into the life of a complicated woman, and a man doing anything to find her. --Noah Cruickshank, adult engagement manager, the Field Museum, Chicago, Ill.