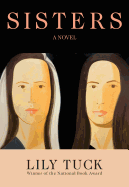 Sisters is another literary wonder by National Book Award winner Lily Tuck (The News from Paraguay, The Double Life of Liliane). It explores the often awkward, sometimes obsessive relationship of a second wife to her predecessor. The narrator hears about the ex-wife (only named as she) in her husband's reminiscences, looks for the woman's features in her two teen step-children, and sees early years of their marriage in old family photos in her husband's apartment. In time, she increasingly sees her predecessor in person--when dropping off the kids at her Upper East Side apartment ("she was not looking her best... I was glad to see her looking older and in slight disarray"), at her local Fairway grocery, even accidently crossing paths in the ladies' room at her daughter's wedding.

Tuck's 40-year-old narrator was once a free-spirited, occasional drug-taking young woman trying to make it in the city. She remembers all of her lovers and becomes obsessed with her husband's sexual past, particularly that with his ex-wife. When he travels frequently for his job, she develops closer ties with his children, especially the strapping math prodigy son. She rekindles a relationship with a former lover visiting the city: "For old times' sake, I told myself. No regrets." An educated woman and amateur photographer, she frequently quotes from works triggered by what catches her interest: Philip Roth, Mario Vargas Llosa, Václav Havel.

Sisters is a novel about marriage, family, sex, jealousy and vanity. Its narrator makes her way through entanglements and digressions as her life moves toward a surprising but fitting outcome. --Bruce Jacobs, founding partner, Watermark Books & Cafe, Wichita, Kan.