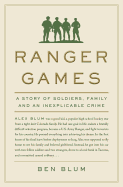 Alex Blum grew up in the Denver suburbs dreaming of being a soldier--a special operations Army Ranger. His cousin Ben Blum was a precocious math nerd. Alex signed his Airborne Rangers contract before he graduated from high school, while Ben went off to Stanford at age 17 "with a suitcase full of Nine Inch Nails T-shirts and combat boots."

Just before Alex was scheduled to ship out for his first deployment in Iraq, however, he drove four other Rangers to a Tacoma Bank of America branch outside Fort Lewis. Brandishing AK-47s, they robbed the place. Within a few short days, the five were captured and locked up for trial. The Blum family was shocked. Ben decided to investigate how his cousin went off the rails. Ranger Games is memoir, biography, military history, heist caper, courtroom drama, whodunit and family saga rolled together.

As a family member, Ben had access to everyone connected with Alex's military training, legal defense and psychological evaluations. He talked extensively with Alex's father, Norm. He corresponded with the robbery crew's charismatic ringleader, the Canadian-born Iraq War veteran Luke Elliott Sommer. But the meat of Ranger Games is in the conversations and correspondence between Ben and Alex. Was Alex a "hapless criminal accomplice" as he claimed--duped by the higher-ranking Sommer--or was he in on the whole thing for the thrill of pulling off a "mission?" Ben probes the mystery of Alex's crime, unfolding it with a fitting denouement. Ranger Games is a hell of a story. --Bruce Jacobs, founding partner, Watermark Books & Cafe, Wichita, Kan.