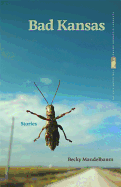 The first stories in Becky Mandelbaum's Flannery O'Connor Award-winning collection, Bad Kansas, ingeniously lay the foundation for the yearning and disconnect that weave throughout the compilation. In the openers, California is seen as nirvana, superior to Kansas in every way. Being in Kansas is akin to missing a better life: better food, politics, weather and people.

In her insightful and sometimes darkly comic pieces on loving and being loved, trying desperately to attain love or deal with its elusiveness, Mandelbaum uses disparate geography as a metaphor for the interpersonal divides love can't always conquer. A Kansas couple's incompatibility is highlighted by a move to the supposed Golden State. A teen new to Wichita learns cliques are universal and flyover states not immune to class structure. A man who relocates to be with a woman discovers his Kansas self isn't who either of them wants.

With an assured style, mixing lyricism, wit and black humor, Mandelbaum dissects the conception that nicer places bring nicer things, and whether unhappiness is tied to where rather than who you are. The author also slyly works in moments that turn the initial premise on its head: a Kansas woman disenchanted with California's "perfect" weather likens mountain snow to a museum relic: "I want it to actually snow.... I want the sky to do something." Another Kansan, familiar with a multitude of insects, is undone by a "Kafkaesque" California cockroach. Engaging from start to finish, Bad Kansas is a smart, insightful debut. --Lauren O'Brien of Malcolm Avenue Review.