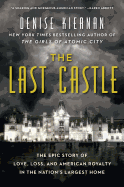 Only someone with outsized ambition and a hefty wallet could build a mansion in the wilderness. In The Last Castle: The Epic Story of Love, Loss and American Royalty in the Nation's Largest Home, Denise Kiernan (Girls of Atomic City) tells of one such man, and how Biltmore became a byword for luxurious living.

George W. Vanderbilt was a bookish man, born wealthy, interested in art and philosophy more than his prominent family's railroad and shipping businesses. In 1888, he decided to build a grand private home on 125,000 acres in the Blue Ridge Mountains in Asheville, N.C. He hired noted architect Richard Morris Hunt and famous landscape architect Frederick Law Olmstead to design what would become a 175,000-square-foot residence that was "[a] visual treat for the eye, no matter the direction it might wander." Ten years later, he married Edith Stuyvesant Dresser, who became his partner in completing Biltmore, and who was instrumental in keeping the estate intact decades later, when her husband's fortune waned and ostentation was not as favored as it once was. "It was up to her to safeguard George's legacy."

Vanderbilt family actions and ambitions are placed in the context of an age when the display of wealth was expected from the moneyed class. Kiernan evokes the grandeur of Biltmore with sumptuous descriptions of the structure and landscape that were formed out of nothing. The Biltmore Estate still stands as a private residence today, open to the public--a permanent testament to one man's dream and his wife's determination to make it happen. --Cindy Pauldine, bookseller, the river's end bookstore, Oswego, N.Y.