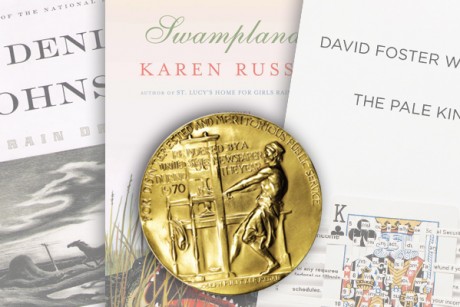 Fallout continued from Monday's "no award" announcement in the Pulitzer Prize fiction category.

On NPR's Morning Edition, Pulitzer fiction judge Susan Larson said she and the other jurors--Maureen Corrigan and Michael Cunningham--are "shocked... angry... and very disappointed" that the Pulitzer board couldn't reach a majority decision from among the three recommended books: Denis Johnson's Train Dreams, Karen Russell's Swamplandia! and the late David Foster Wallace's The Pale King.

"This was a lot of work," Larson added. "I think we all would have been happy if any of [the three] books had been selected." Regarding the board's motives, she observed: "Their deliberations are confidential and they don't give us any feedback."

Maureen Corrigan told the New York Times she was also shocked by the failure of the board to choose a winner: "When I heard, the first word that went through my head was 'inexplicable.' Then the second reaction was just anger on behalf of these three novels." She also rejected criticism the Pulitzer board might have considered the three nominees too unconventional. "I've heard that theory," she said. "If they didn't think that these three nominations were somehow within the regulations that they have set out, then they should have made that clear at the time that we nominated them."

Doubleday suggested the Twitterverse choose its own Pulitzer winner (using the hashtag #TwitterPulitzer), and later announced that "based on the votes, the #TwitterPulitzer would go overwhelmingly to @TejuCole for Open City. The Bronze Hashtag is in the mail!"

Sarah McNally, owner of McNally Jackson Books in SoHo, said she would present her own awards to The Great Night by Chris Adrian, We the Animals by Justin Torres and Pym by Mat Johnson.

In a New York Times Op-Ed piece, author and bookseller Ann Patchett wrote that "most readers hearing the news will not assume it was a deadlock. They'll just figure it was a bum year for fiction. As a novelist and the author of an eligible book, I do not love this. It's fine to lose to someone, and galling to lose to no one." As a reader, she found the result "infinitely more galling" because of the number of good books published last year.

"If I feel disappointment as a writer and indignation as a reader, I manage to get all the way to rage as a bookseller," Patchett added. "The Pulitzer Prize is our best chance as writers and readers and booksellers to celebrate fiction. This was the year we all lost."

"It's the most significant award in American letters and it's a shame the jury couldn't find a work of fiction this year," said Paul Bogaards, director of publicity at Knopf (which published Swamplandia!) in an Associated Press article. "The Pulitzer makes sales. It's a prize that can change the career trajectory of a writer."

Bogaards told the New York Times that in "years past it's the Pulitzer winner that captures all the attention and all the sales. But since this year there was not a winner and there's much conversation about the finalists, this may be an opportunity and a catalyst for sales."

Michael Pietsch of Little, Brown also found reason to be optimistic: "It's wonderful that the Pulitzer nominating committee recommended The Pale King to the judges. Anything that brings readers to David's brilliant novels, especially his great novel Infinite Jest, is a good thing!"

Feeling the need to "fill the gap," the Wall Street Journal's Speakeasy blog asked "some notable book critics and writers which work of fiction they would have awarded the Pulitzer Prize, if they had their druthers." Slate book review editor Dan Kois opted for one of the three finalists, calling Train Dreams "a lasting masterpiece of tone and intuition, powerful and tragic, that I'll remember forever. I don't know if the fact it was a novella--and a slim one at that, 128 pages and biiiig type--turned the board against it. Too bad they blew it!"