Last Thursday's appearance by E.L. James at Comic-Con in San Diego was considerably more frenzied than her first trip a few years ago when she attended "to participate in a panel for fans who wrote fiction inspired by the Twilight series," the San Francisco Chronicle reported.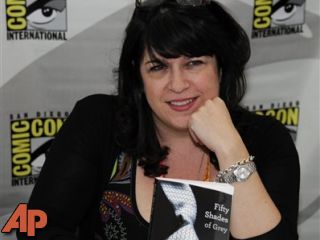 "It's just crazy," she said. "This whole thing has just been mindboggling, how it's happened and how it's exploded, and so quickly."

Citing a fan who exclaimed, "We are Team Christian now," the Hollywood Reporter wrote that the "declaration sums up the passing of the romantic-series torch which occurred at Comic-Con on Thursday. The day began with a panel devoted to the final Twilight movie and ended with an overflow crowd clammering for James's signature on their copy of the hit erotic thriller."

Fifty Shades fans "lined up at 9 a.m. for tickets to the afternoon signing. Within an hour, all three hundred tickets were gone," THR noted, adding that the crowd "at the signing skewed older and more female than your average Comic-Con event."