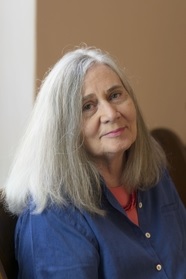 Congratulations to Marilynne Robinson for being named winner of Dayton Literary Peace Prize's Richard C. Holbrooke Distinguished Achievement Award, which "honors writers whose work uses the power of literature to foster peace, social justice and global understanding." She will receive the award November 20 in Dayton, Ohio.
"In her fiction and in her essays, Marilynne Robinson is concerned with the issues that define the Dayton Literary Peace Prize: forgiveness, the sacredness of the human creature, and delight in being alive and experiencing the natural world," said Sharon Rab, founder and co-chair of the Dayton Literary Peace Prize Foundation. "With luminous, deeply moving prose, she explores the causes of strife in a family, in a community, and in the world, while ultimately demonstrating the universal healing power of reconciliation and love."
Robinson commented: "I have had the privilege of seeing for myself how books live in the world, how readily they can cross all sorts of borders and boundaries, how important they are in sustaining a human conversation through and despite the frictions that arise among nations, how intensely they can be taken to heart anywhere. It is certainly appropriate that a literary prize should also be a peace prize, and that writers themselves should be made aware of their unique opportunity to speak to an international readership, an opportunity created by the interest and quality and commitment to truth of the literary work of generations."