Branches Books & Gifts, Oakhurst, Calif., has, as announced earlier this summer, moved to a new, 1,500 square foot location. Owner Anne Driscoll, manager Shelby Collings and booksellers Ruth Demers and Chloe Dean closed the old shop last week and "with the help of family, friends and some major packing skills," moved and re-opened Friday morning.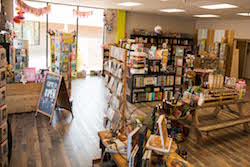 "I am absolutely thrilled with the way everything turned out," Driscoll said. "There are designated spaces for everything, and it has a wonderful energy already. We are so excited to have more room and more shelves! Many people think we are a new store in the area, which just solidifies that this was the absolute correct decision to relocate, expand and be in a more central location."
Branches is celebrating the move this coming weekend, beginning with a ribbon-cutting ceremony on Friday, September 2, at noon, hosted by the Oakhurst Area Chamber of Commerce. On Saturday, the store will have a princess story time with a photographer on hand. Branches is also having prize drawings and giveaways through Labor Day.