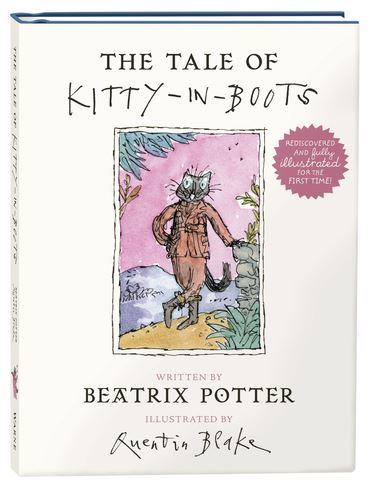 It's exciting to think of a world of attics, root cellars and secret compartments in roll-top desks where brittle, never-seen manuscripts by beloved authors await discovery. A clue leading to Beatrix Potter's 1914 manuscript for The Tale of Kitty-in-Boots was unearthed two years ago in another kind of forgotten place, an out-of-print 1970s literary history of the beloved English storyteller.
In that book, Jo Hanks, publisher at Penguin Random House Children's, found an intriguing reference to "a well-behaved prime black Kitty cat, who leads a rather double life" in 20th-century England. Delighted, Hanks followed up with a trip to London's Victoria & Albert Museum archive, where much Potterphernalia is kept, and found, among other things, the story she sought handwritten in a children's school notebook, a mock-up with some typesetting and a single rough color sketch of Kitty-in-Boots.
Quentin Blake was thrilled to be asked to illustrate this story, "full of incident and mischief and character," the British artist writes in the book's introduction. Musing about why Potter may not have finished illustrating it, he says, "I can't altogether resist the simple fantasy that she was keeping it for me." Blake, who illustrated many of Roald Dahl's books and therefore is an expert in naughtiness, brings his comical, scratchy pen-and-ink and watercolor paintings to Potter's deadpan-with-a-twinkle prose.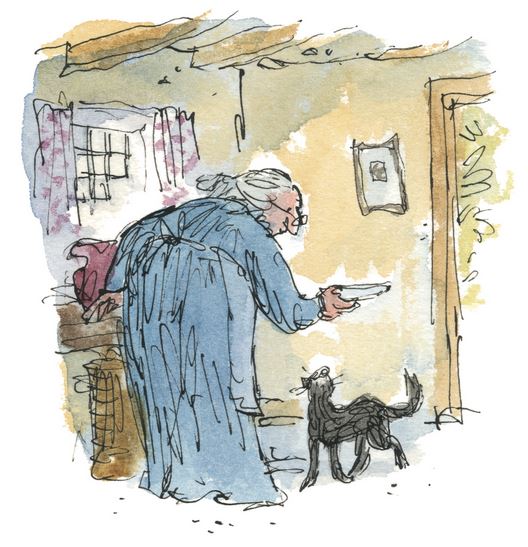 The story: an old lady loves Kitty so much that she locks her up at night in the wash-house. Kitty outsmarts her. The cat commissions another black cat named Winkiepeeps take her place while she dons her "gentleman's Norfolk jacket" and fur-lined boots to "go a-hunting" with her pellet-loaded air-gun. The strange, but appealingly scrappy story (with lovely words like "disconsolately" and "bobbitted") involves zealous rodent hunting and plenty of misfires. Kitty herself is the rebellious, spitting, scratching sort, not at all what the old lady imagines her to be.
The Tale of Kitty-in-Boots (Frederick Warne/Penguin) is being released today, to coincide with the 150th anniversary of Beatrix Potter's birth this summer, and includes an audio CD of the story charmingly read by Helen Mirren, who can read no other way. --Karin Snelson