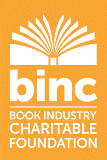 The Book Industry Charitable (Binc) Foundation is asking booksellers and other book industry professionals to take a survey so that Binc can "hear from booksellers about what they want and need from an organization dedicated to helping them in times when they need it most."
The Binc Foundation conducted its first such survey in 2014, which indicated that booksellers needed some additional and different services than those that the Foundation was offering, Binc said. In response to that survey, a matching grants program as well as homelessness prevention and utility shut-off prevention were added to Binc program offerings. "Financial grants from those newly established programs have helped many booksellers to stabilize their households and move forward knowing there is a safety net in place for them," Binc noted.
Binc said it's conducting this second survey because of "the growth and change of both the bookselling industry and the Foundation over the past three years."
The survey should take no more than seven minutes to complete and is available online until October 23. Participants will be eligible to win one of four $50 American Express Gift Cards as a thank you for taking the time to complete the survey. The results of the survey will be released in January 2017.