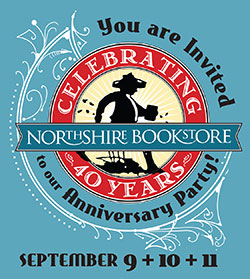 Congratulations to the Northshire Bookstore, Manchester Center, Vt., which will celebrate its 40th anniversary this coming weekend with three days of activities, discounts and events, including Vermont comedian Michael Kingsbury on Friday; a main event Saturday featuring author Richard Russo; and a children's festival Sunday. This is also the bookstore's Readers Rewards Member Appreciation Sale Weekend, with members receiving a minimum of 25% off most purchases.
"The physical presence of the bookstore has done nothing but expand since its inception," the Bennington Banner noted in recounting the early days of the shop, founded by Ed and Barbara Morrow, in a building that is now home to Berkshire Bank; and Northshire's move in the mid-1980s across the street to the former Colburn House inn, where it doubled in size in 2003 with a new addition. In 2013, the Northshire opened a second location in Saratoga Springs, N.Y.
Current owner Chris Morrow said the bookstore's ongoing strategy over the decades was to deliver the best service, selection and ambiance: "It resonated with people and created a genuine experience. You can't get it online. We continue to focus on being unique and serve the greater Manchester community."