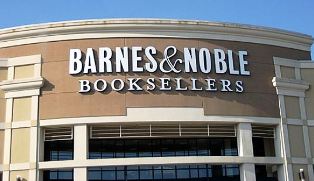 In the first quarter ended July 30, total sales at Barnes & Noble fell 6.6%, to $913.9 million, and the net loss was $14.4 million, compared to a net loss of $7.8 million in the same period a year earlier. Wall Street analysts had expected total sales of about $958 million.

Total retail sales, including B&N stores and B&N.com, fell 6.1%, to $881.7 million. NOOK sales, which include digital content, devices and accessories, declined 24.5%, to $41 million.

In a big shocker, sales at stores open at least a year fell 6%, "softer than the company's expectations, due in large part to lower traffic and the challenging retail environment."

B&N said that its retail operations had an operating loss of $7.4 million in the quarter, which includes "severance charges and consulting fees of $7.9 million resulting from Retail's cost reduction initiatives." In the same vein, Nook had an operating loss of $14 million, which includes "severance and transitional costs of $7.2 million related to the previously announced outsourcing of certain NOOK services and the closure of its California and Taiwan offices." Excluding those charges, B&N said that the consolidated net loss from continuing operations would have been $5 million, a number that beat analysts' estimates.

B&N said it "remains focused on executing its previously announced strategic initiatives to increase sales and reduce expenses. Given the softer than expected sales results to date, and the expected continuation of the challenging retail environment, the company now expects fiscal 2017 comparable store sales to decline in the low single digits."

This has been a tumultuous period for B&N. In August, CEO Ron Boire, who was hired only in September 2015, left B&N, with the company saying that he "was not a good fit for the organization." The company's quarterly announcement did not mention Boire or the search for a successor other than a mention of unspecified "costs associated with the recent CEO departure."

The company didn't mention its new store concept in today's report; the first four of these stores featuring full-service restaurants will begin opening next month and a fifth was recently announced.