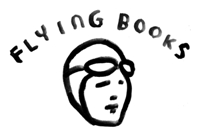 At a shop called Weekend Variety in Toronto, "the shelf that constitutes... Flying Books is topped with the company logo (Amelia Earhart, as drawn by author and illustrator Leanne Shapton), below which are a half-dozen titles, all face out, with small, handwritten notes detailing their merits," the National Post noted in a feature on Martha Sharpe. Sharpe opened the first of her Flying Books sites last August after deciding "that a small, 'choosily chosen' selection of a half-dozen or so books tucked inside another retail space was a safer--and inventive--way to start."
Noting that "the books sold quickly and people keep coming back," she said that by last February she had placed shelves in three more locations: Northwood General Store on Bloor, the Gladstone Hotel and Ezra's Pound coffee shop.
Under the Flying Books banner, she has also "launched other book-related ventures, such as readings and signings at venues near her Queen Street location (in November Flying Books will host the launch of Elena Ferrante's new collection, Frantumaglia); a Flying Books writing school at Artscape Youngplace, taught by Damian Rogers (more classes are planned in 2017); and the Flying Books Book Club she co-hosts with author Harriet Alida Lye at the Soho House," the National Post wrote.
"She's one of the rare people who have truly dedicated their entire lives to finding new talent, to discovering different styles and genres," said author Amy Stuart. "She reads and supports thrillers, she reads the Booker prize winners and more obscure, literary novels--she's just very open with what she'll read."