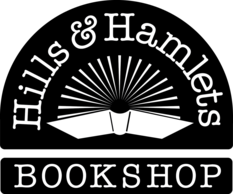 Hills & Hamlets Bookshop is expected to open next month "in the urbanist green living community of Serenbe, located in the city of Chattahoochee Hills, Ga.," Bookselling This Week reported, adding that the store will primarily sell new books and "is the project of Josh Niesse and Megan Bell, the couple who co-own Underground Books, a used, rare, and antiquarian bookstore in nearby Carrollton."
They have raised around $18,500 selling "pre-memberships" to community members to fund the 650-square-foot bookstore, which "will be located on the ground floor of the new Serenbe Textile Lofts building within Serenbe, a new high-end urbanist 'planned' community that emphasizes green living and the arts," BTW wrote.

Josh Neisse and Megan Bell
"The books we sell will have some specialized focus on the themes that are exemplified by the Serenbe community, such as architecture, urban planning, agriculture, and culinary arts, but we'll also have indie staples: children's books and popular fiction and literature," said Niesse. "We will also feature some of the vintage antiquarian/rare book inventory that Underground Books has specialized in.... There is a tremendous amount of built-in opportunity in this community. There are 100,000 visitors a year to Serenbe: some just regional, some visiting for vacation, and then also some just visiting to see this new model of alternative urban planning and community development.... So we'll have some [events] that we will try to create, and then we'll have some we do using existing partnerships and opportunities."
Hills & Hamlets hosted a pop-up shop in July to raise awareness about the store, and this month Niesse and Bell "are planning several soft opening events in conjunction with the Serenbe community," BTW noted. The couple also attended the Paz & Associates "Owning a Bookstore" workshop.
"The 'new book' world is definitely different from the used and antiquarian world, and we have a lot to learn," said Bell. "We are still often going back to our binders and our notes from the Paz workshop.... Community in the bookselling industry means everything, especially the amount of time and attention invested in making sure that newcomers are well-informed."