Amazon is planning to open "dozens of new pop-up stores in U.S. shopping malls over the next year" and have "as many as 100 by next year," according to Business Insider, which cited "a source familiar with the matter." Business Insider is partly owned by Amazon CEO Jeff Bezos's personal investment company, Bezos Expeditions.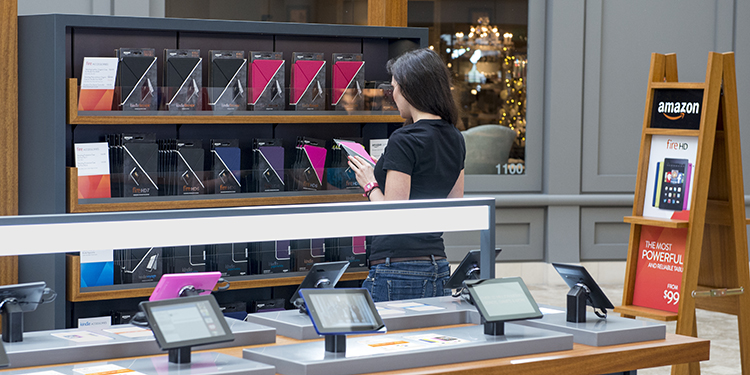 The pop-up stores, usually 300-500 square feet, are distinct from the company's Amazon Books stores and showcase the store's tech products, "particularly its Echo home speakers," as well as Kindles and Fire TVs. Amazon currently lists 22 pop-up stores; Business Insider predicts 30 by the end of the year.

Amazon Books stores also feature Amazon devices. In the only Amazon Books that's opened so far, in Seattle, devices are literally the centerpiece of the store.
The pop-up stores may have been what a shopping mall owner was referring to in a conference call with Wall Street analysts earlier this year, when he said Amazon was going to open 300-400 stores. That call, of course, created a media frenzy, in part because Sandeep Mathrani, CEO of General Growth Properties, a real estate investment trust that owns and manages 120 shopping malls around the country, said they would be bookstores.

Business Insider said that the pop-up stores "reflect the company's growing drive to reach consumers directly through a variety of access points including retail storefronts, home delivery, and innovative devices. Just as Apple changed its relationship with customers through its sleek retail stores, Amazon is building out its vision for a new class retail business that weaves together a powerful assortment of online and physical components."

It added: "Given Amazon's obsession with data, the decision to expand the network of stores may indicate that the company has seen an uptick in online sales in the regions where it already has pop-up stores."

Business Insider noted, too, that the pop-up operations are run by the devices team, not the team that has worked on Amazon Books. "That means the push for more pop-up stores coincides with the success of the Echo, which is widely considered to be the next big hit product for Amazon."