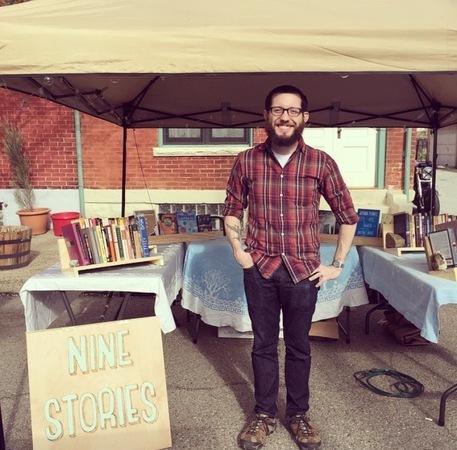 John Shortino, Nine Stories
John Shortino and Allison Mosher, who have been operating Nine Stories as a pop-up bookshop, plan to open a storefront operation this fall at 5400 Butler Street in the Lawrenceville neighborhood of Pittsburgh, Pa., selling both new and used books. As a bonus, the location "just happened to be located next to Caffe d'Amore Coffee Company. And there happened to be an option to connect the two with a wall they shared," Next Pittsburgh reported.
"Having a coffee shop and bookstore together will serve the community in a new way," said Walsh "It has the potential to be collaborative and fun and benefit both businesses as well."
As a pop-up, Nine Stories has been selling books at events like Garfield Night Market and Open Streets and at community spaces like the Stephen Foster Community Center. "We kept on acquiring more stuff every time we had a pop-up," said Shortino. "We started to realize we had outgrown the pop-up model because we weren't able to get used books back out on the market as fast as we would have liked."
Nine Stories' move to a permanent location "was funded in part by a $5,000 Kiva Zip loan, which was fully crowd-funded by 68 people in five days," Next Pittsburgh wrote, adding: "Keep an eye out for details on the early-October grand opening by following Nine Stories on Facebook and Twitter."