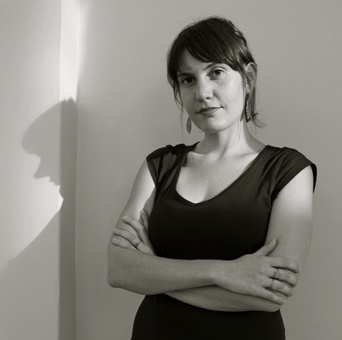 Laia Jufresa is a Mexican writer who lives in Germany and has also lived in Mexico, Spain, Argentina, the U.S. and France. In the same way that she has often moved from country to country, she has moved from genre to genre, writing short stories, picture books and a screenplay. Her novel Umami (Oneworld, September 13, 2016) has been translated into seven languages. The English-language version was translated by Sophie Hughes.

On your nightstand now:

There's a huge pile of books and notebooks and pregnancy vitamins. On top of it all sit--quite unstably--How to Be Both by Ali Smith and The Soul of an Octopus by Sy Montgomery.

Favorite book when you were a child:

The Anastasia Krupnik series by Lois Lowry. I read all of them when I was Anastasia's age, and I have never dared re-read them because I wouldn't want to alter that subtly confused childhood memory in which Anastasia isn't a character, but the coolest kid I ever spent time with.

Your top five authors:

Jorge Ibargüengoitia, Daniel Pennac, Fabio Morábito, Marie NDiaye and Jo Ann Beard.

Book you've faked reading:

Ah, many a famous Latin American writer: Cortázar, Bolaño, etc. As a Mexican writer, I'm somehow expected to be an expert on them all. So I just smile politely.


Book you're an evangelist for:

What It Is by Lynda Barry.

Book you've bought for the cover:

Too many to name, I'm basically a sucker for nice covers. The last one was Carlo Rovelli's Seven Brief Lessons on Physics in hardcover, which I bought because of the shiny copper foil dots. I have to say though, it turned out to be a delicious book I would now buy and give as a gift no matter what the cover looked like.

Book you hid from your parents:

I haven't lived with my parents since I was 16, I don't think I ever hid anything from them. Today though, I hope they never go through my self-helpy shelf, first of all because they would disapprove of me having such a thing, and second of all because amidst it, they'd find a book called Life Lessons for the Adult Child: Transforming a Challenging Childhood by Judy Klipin, and they may take it personally.

Book that changed your life:

Ray Bradbury's The Zen in the Art of Writing was very important to me in a time when my writing had started getting attention, yet I felt utterly inadequate because I hadn't read the things you are supposed to. Bradbury gave me a validation I didn't know I was looking for, and with it came a lot of courage to trust my instincts and hard work instead of my fears of judgment.

Favorite line from a book:

"The hell of living people is not something to come; if there is one, it is here already, it's the hell we live in every day, which we form staying together. There are two ways not to suffer from it. The first comes easy to many: to accept hell and become part of it, to the point you don't see it anymore. The second is risky and requires continuous attention and learning: to look for and recognize who and what, in the middle of hell, is not hell, and to make it last, and to give it space." --Italo Calvino's Invisible Cities, translation by James Petani

Five books you'll never part with:

I actually tend to give away a book I love the minute I'm done with it, while I'm still bubbling with enthusiasm, I can't help it. Unless it's an illustrated book. So I'd never give away my copies of:

Words and Pictures by Quentin Blake
What It Is by Lynda Barry
A Lion in Paris by Beatrice Alemagna
Persepolis by Marjane Satrapi
Maus by Art Spiegelman

Book you most want to read again for the first time:

The Good Earth by Pearl S. Buck. I remember it blew my mind when I was about 12, but I have no idea why as I can't remember any of it.

How you feel about book recommendations:

I believe in following your cravings and picking books by the cover or by sheer instinct. You may end up having to pretend you read the American or Latin American classics (or the classics of your particular nationality), but you'll have your very own path. Like a garden you planted, which will always give tastier tomatoes than any other patch. Also, reading is a pleasure, not a vitamin, so don't finish books that bore you. And don't listen to anyone who gives you reading advice, not even distant writers in a newsletter.