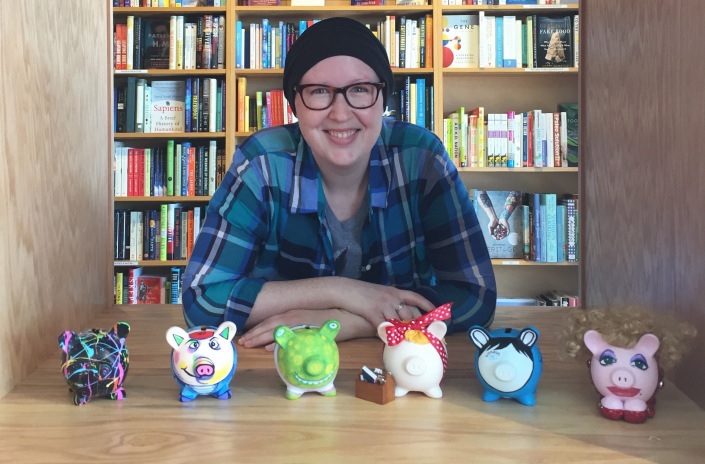 Stephanie Appell
Parnassus Books in Nashville, Tenn., has recruited more than 100 authors and artists to contribute hand-painted piggy banks for a fundraising auction on September 25 to benefit Parnassus bookseller Stephanie Appell, who was diagnosed with stage three breast cancer this spring. The store has also pledged to donate a portion of the proceeds to the Book Industry Charitable Foundation, for which store owner and author Ann Patchett is an inaugural ambassador.
"I actually had the 'it's cancer' conversation phone call with my doctor in the bookstore bathroom," said Appell in a post on Musing, the store's online lit journal. "My first work-related thought was, 'How are we going to get done all that needs doing if I'm out sick?' But when I told everyone, they just said, 'We got this. What do you need?' "
Among the creators contributing piggy banks for the auction are cellist Yo-Yo Ma, punk band NOFX, actor and musician pair Nicole Kidman and Keith Urban, and a plethora of authors, including John Green, Barbara Kingsolver and Paula Hawkins. The bidding will begin in-store on Sunday, September 25, during the Bank on Booksellers Party, and later that evening people from around the world will be able to bid on the piggy banks online via the website BiddingOwl.
Said Ann Patchett: "We cast our piggy banks upon the water and what came back to us was more fabulous than anything we could have ever imagined."