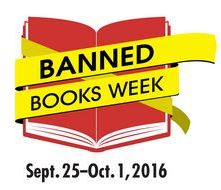 With Banned Books Week beginning next Sunday, September 25, publishers, booksellers, librarians and wholesalers are finalizing plans for the annual celebration of literature and the First Amendment. A variety of resources for teachers, students, booksellers and more can be found on the Banned Books website, along with a directory of events listed by state. The American Booksellers for Free Expression group, meanwhile, has created digital display resources for booksellers.
For the fifth consecutive year, the American Library Association will run the Banned Books Virtual Read-Out, during which readers can celebrate the freedom to read virtually by creating videos that will posted on a dedicated YouTube channel. The ALA will also host a free webinar on September 29 featuring authors Jessica Herthel (I Am Jazz), Christine Baldacchino (Morris Micklewhite and the Tangerine Dress) and Wendy Doniger (The Hindus), who will discuss their experiences with censorship. Also on the ALA website are various resources and the 2015 most-challenged book list--John Green's Looking for Alaska leads the list for the year.

In honor of Banned Books Week, the Comic Book Legal Defense Fund is offering "I Read Banned Comics" T-shirts and Comics Code Authority pins and patches, along with kits and bundles for retailers, including the 2016 CBLDF Banned Books Week Handbook, stickers, buttons and more.
Ingram and ABFE have teamed up for a banned books promotion: stores that place a qualifying order of 25 or more units will receive an extra 3% discount on initial and subsequent orders through October 5. The first 250 customers to order 25 units or more per store will receive a free Banned Books Week poster.
Among bookstore events honoring Banned Books Week, Eight Cousins Books in Falmouth, Mass., is hosting authors Ilene Wong (None of the Above, as I.W. Gregorio) and Amitha Knight at the Falmouth Public Library on September 26. The pair will discuss why diverse literature is disproportionately banned or challenged; Stephanie Seales of the Falmouth Public Library and Sara Hines of Eight Cousins will moderate the conversation.
On September 27, a coalition of independent bookstores around the country, including Housing Works Bookstore Cafe in New York, N.Y., Skylight Books in Los Angeles, Calif., The Book Cellar in Chicago, Ill., Politics & Prose in Washington, D.C., Tattered Cover Book Store in Denver, Colo., and Books & Books in Miami, Fla., will host simultaneous open mic events in honor of Banned Books Week.
And in a sad reminder of why Banned Books Week is repeated every year, Wolf Boys: Two American Teenagers and Mexico's Most Dangerous Drug Cartel by Dan Slater, has just been banned by the Texas Department of Criminal Justice, Paste magazine reported. The book, which was published by Simon & Schuster on September 13, tells the true story of two American teenagers recruited by a Mexican drug cartel and the Mexican-American detective who tracked them down and ultimately captured them. A portion of Wolf Boys was excerpted in Texas Monthly earlier in September, and after the excerpt became popular among TDCJ prisoners, the TDCJ's Directors Review Committee read the book and decided to ban it, saying that parts of the book contained "material on the setting up and operation of criminal schemes or how to avoid detection of criminal schemes by lawful authorities charged with the responsibility of detecting such illegal activity." Gabriel Cardona and Rosalio Reta, the subjects of Wolf Boys, are in fact current inmates of the TDCJ. --Alex Mutter