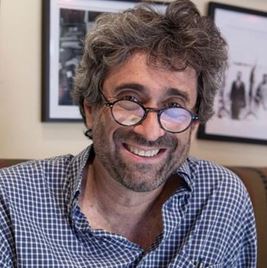 Mitchell Kaplan
Congratulations to Mitchell Kaplan, owner of Books & Books and co-founder of the Miami Book Fair International, who has won the ArtesMiami Lydia Cabrera Award, which honors "individuals who have made a significant contribution to the cultural development of South Florida."
He will be presented the $1,000 prize and a ceramic artwork at a luncheon on October 14. The luncheon will be presented by U.S. Century Bank, one of the top 10 Hispanic-owned community banks in the U.S. The award is named in memory of Lydia Cabrera, writer and expert in Afro-Cuban culture.
Kaplan commented, "I am very pleased to receive this recognition from ArtesMiami and to be the first non-Hispanic award recipient. I love this community, where I was born and raised, and its multicultural richness. What we have done at Books & Books is to give back to all the many who support our independent bookstores. I thank ArtesMiami for this great honor, which places me in very good company."
Dr. Aida Levitan, ArtesMiami founder and president, said, "Mitchell Kaplan has dedicated his life to keeping alive the literature and culture of our community and nation. Thanks to his vision and his passion for the arts, Kaplan has enabled South Florida writers and artists to shine at Books & Books and the Miami Book Fair International. We especially want to thank him for his support of many Hispanic poets and writers who have been invited to present their works at his bookstore."
Luis de la Aguilera, president and CEO of U.S. Century Bank, said, "This award is essential because it highlights the position of Miami as a major cultural center thanks to leaders like Mitchell Kaplan, one of the great promoters of literature and art in South Florida. U.S. Century Bank supports and appreciates ArtesMiami because this organization enriches our cultural environment."