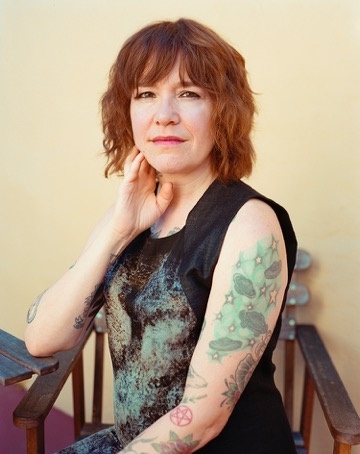 photo: Gretchen Sayers
Michelle Tea is the author of five memoirs: The Passionate Mistakes and Intricate Corruption of One Girl in America, Valencia (now a film), The Chelsea Whistle, Rent Girl (illustrated) and How to Grow Up. Her novels include Mermaid in Chelsea Creek, Girl at the Bottom of the Sea and Rose of No Man's Land. Black Wave (Amethyst Editions/The Feminist Press, September 13, 2016) is a dystopic memoir-fiction hybrid.

On your nightstand now:

Elena Ferrante's My Brilliant Friend. OBSESSED.

Favorite book when you were a child:

I loved reading Lois Duncan's scary YA books when I was just a little bit too young for them. Daughters of Eve, I Know What You Did Last Summer, Down a Dark Hall.

Your top five authors:

Eileen Myles, James Baldwin, Ali Liebegott, Justin Chin, Lynda Barry.

Book you've faked reading:

Hahaha! When I was in second grade I wanted to win the library reading contest so bad, I signed up to compete in many different categories. Including dinosaurs. I had no interest in dinosaurs, and was embarrassed--the librarian had suggested I was signing up for too much reading, and I was insulted that she doubted my skillz. But she was right. I lied to her about reading them, and I won! I won a Crayola mug set, where you drew pictures on long strips of paper and put them into your mug. Is this even interesting? Anyway I was so riddled with guilt I couldn't sleep and finally confessed to my mother. I couldn't return the prize because I'd already used it, so I had to actually read all the boring dinosaur books.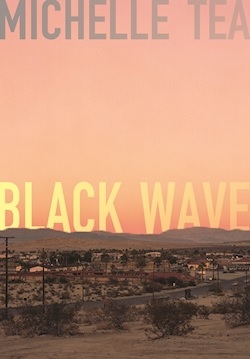 Book you're an evangelist for:

Eileen Myles's Chelsea Girls. It changed my life and taught me how to believe in myself as a writer.

Book you've bought for the cover:

Darcey Steinke's Jesus Saves. And then the book murdered my heart. It's so good, I'm still haunted by it.

Book you hid from your parents:

I would steal my mom's books and read and hide them. Jackie Collins's Hollywood Wives, Jacqueline Susann's Once Is Not Enough and the My Secret Garden women's fantasies books!

Book that changed your life:

The Outsiders changed my life because it took the experience of being working class, or broke, and cast it in a romantic, literary, noble light. It blew my mind. The beginning and end of Black Wave pays homage to it, and I've written and talked about it elsewhere.

Favorite line from a book:

"These exotic revelations bubbled up involuntarily and I began to understand that the sleeplessness and the vigilance and constant feedings were a form of brainwashing, a process by which my old self was being molded, slowly but with a steady force, into a new shape: a mother." --The First Bad Man by Miranda July

Five books you'll never part with:

Chelsea Girls by Eileen Myles, The Outsiders by S.E. Hinton, The Bell Jar by Sylvia Plath, Cruddy by Lynda Barry and The Holographic Universe by Michael Talbot.

Book you most want to read again for the first time:

The First Bad Man by Miranda July.

Unpublished manuscripts you have read this month:

Since I Laid My Burden Down by Brontez Purnell (forthcoming, Amethyst Editions/Feminist Press), Like a Dog by Tara Jepsen (forthcoming, Sister Spit Books/City Lights), I'll Tell You in Person by Chloe Caldwell (forthcoming, Coffee House Press), DNA Hymn by Annah Anti-Palindrome (Sibling Rivalry Press) and The Cruelty Men by Emer Martin.