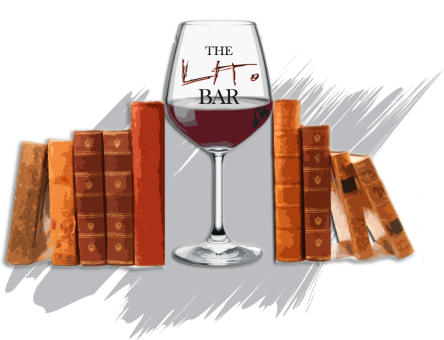 Noëlle Santos, a human resources director and accountant in New York City, has won second place in the New York Public Library's 2016 StartUP! Business Plan Competition for the Lit. Bar, an independent bookstore and wine bar she plans to open in the South Bronx in 2017. The second place prize comes with an award of $7,500; Santos was one of 10 finalists, selected from a field that began with 360 applicants.
"I am overwhelmed with joy and gratitude," said Santos, who received the award at a ceremony on September 12. The StartUp competition began almost a year ago, and required her to attend an orientation session and at least three out of four technical workshops between January and April, meet regularly with a business adviser, and upload a completed business plan in June. Santos learned she was a finalist in July.
"It was stressful at times--okay, most of the time," continued Santos. Every stage of the process brought its own anxieties and new questions that she needed to research and answer creatively. "Besides the money, I've earned an awesome business plan, and now relationships with the New York Public Library and other advisers who will continue to support me. I'm a little disappointed that I didn't take home the grand prize, but I'm super proud of myself."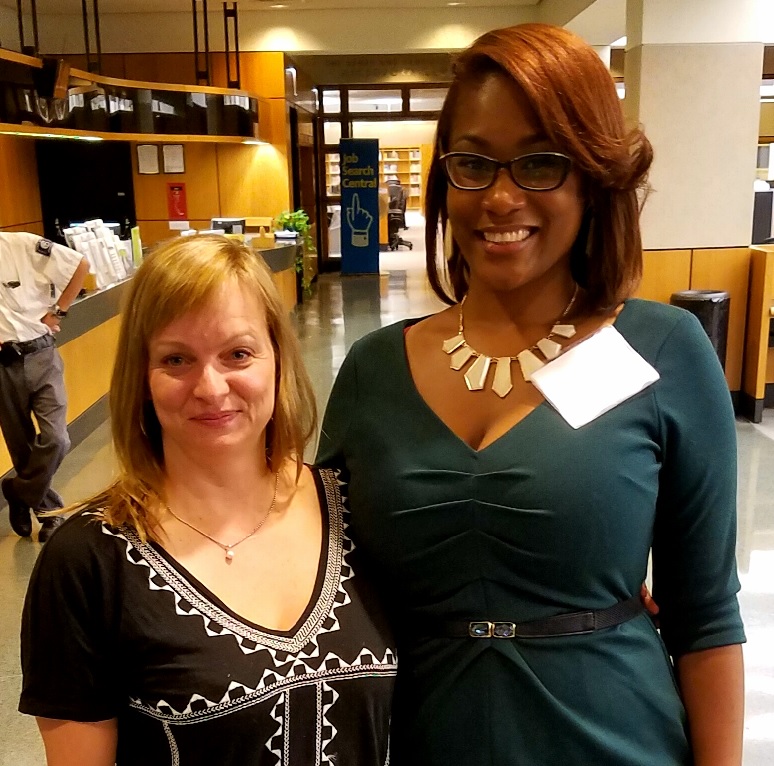 Nicole Sullivan (left) and Noelle Santos
Nicole Sullivan, the owner of BookBar in Denver, Colo., attended the awards ceremony with Santos last Tuesday. Sullivan, Santos explained, has been her mentor for approximately two years, ever since Santos decided to open an independent bookstore of her own. And in fact, Sullivan was in New York and able to attend because she was an honoree for another award--the Frankfurt Book Fair and PW's Stars to Watch program--and Santos was her plus-one at that event.
"Before I went anywhere, I called Nicole Sullivan," Santos recalled. "She helped me navigate this whole journey. I was thrilled to finally meet her in person and share this experience with her."
Santos's path toward opening an independent bookstore began in October 2014, when she signed a petition to keep the local Barnes & Noble, the borough's only bookstore of any kind, open for business. She had shopped there for years, out of convenience and because she liked it, without realizing that it was the only bookstore in the Bronx.
"I didn't realize just how underserved we were," Santos recalled. It was at that point that she realized her calling in life was to bring a "sustainable, independent bookstore to the Bronx."
Santos has narrowed the search for a location to two sites, one that's 2,500 square feet and another that's 4,000 square feet. At minimum, she plans to have 1,000 square feet devoted to book inventory, with at least 500 square feet for the bar. The store's interior will be decorated with chandeliers and graffiti, and the inventory will include books from all sorts of genres, which Santos plans to organize in some unorthodox ways--one of the sections she's thinking of creating would be called "25 Families Crazier Than Yours." She's considering having a small children's section, which she said she's seen work at other bookstore bars, including BookBar and Spotty Dog Books & Ale in Hudson, N.Y. "It would be more of a children's nook than a full children's section," she added.
One of Santos's major goals is to create a consignment program for local authors in the Bronx, and she would be happy if the consignment program eventually constituted as much as 20% of her book inventory. Explained Santos: "There's a huge lit community here, but no way for them to monetize their work."
While the focus of the consignment program will be local authors, some local artists will be featured as well. It won't be anything on the scale of the author program, but Santos said that she liked the idea of being able to both display and sell local art and photography. In terms of other non-book, non-wine items, she wants a lot of fun sidelines that promote the Bronx and its history. In some respects, she wants the store to be a bit of a Bronx gift shop.
"We have gift shops here but they're all Yankees things," said Santos. "There's nothing that celebrates art or hip hop or the other things that happen here that aren't the Yankees."
Santos plans to have a selection of about a dozen wines, with several reds, a few whites and a couple of dessert wines. The target market for the Lit. Bar, Santos said, consists of people who drink socially but may not necessarily be connoisseurs. The bar will also have a selection of light bites and small appetizers, things that can be made with a panini press or commercial microwave. Santos also plans to carry some coffee offerings, but doesn't want the Lit. Bar to turn into a coffee shop.
Perhaps her favorite part of the whole process thus far has been coming up with ideas for events, Santos said. In addition to traditional author events, readings and storytime sessions on Saturday mornings, she'd like to host regular happy hours, date nights, ladies' nights, and even things like makeup or interior design tutorial sessions. The Bronx is currently going through significant demographic changes as certain areas gentrify, and Santos hopes to host the kinds of events "where people can actually become neighbors" and ease some of that tension.
Santos expects to be fully funded by January and open in spring 2017. In the meantime, she'll continue to look for prospective homes and search for both a bookstore manager and a bar manager. Throughout this entire process, Santos reflected, she's received the most amazing feedback from the community, one that wants to preserve Bronx culture during a time of transformation and also combat the negative conceptions many people still have about the Bronx.
"We're thriving," Santos said. "It's not the Bronx that everyone thinks has been burning since the '70s. Everyone wants a bookstore badly, and an independent bookstore specifically. People here are very aware of the importance of shopping local and what bookstores do for the social fabric of a community." --Alex Mutter