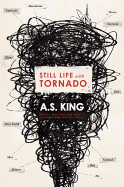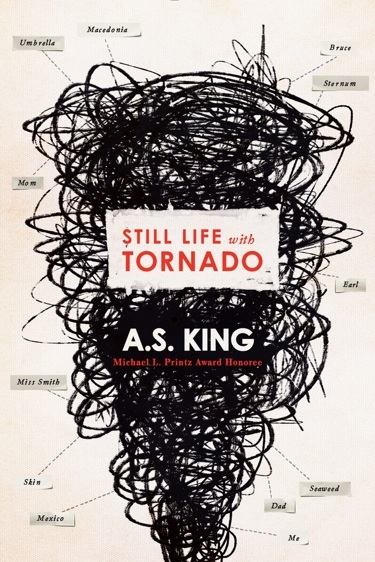 It can be paralyzing for anyone to be told there are no original ideas, yet that's exactly what Miss Smith the art teacher tells 16-year-old Sarah's high school class. Sarah's friend Carmen insists her freshly drawn still life of a tornado is "original," but Sarah says it's just a funnel. Miss Smith's bleak outlook shakes Sarah deeply; before she knows it, she's quit school and is on her way to City Hall to change her name to Umbrella. But even that bold act, she imagines, is probably not too original.

Printz Honor author A.S. King (Please Ignore Vera Dietz; I Crawl Through It) paints a brilliant portrait of a teenaged Philadelphia artist having a full-on existential crisis. Over the years, Sarah has become numb to her parents' obvious mutual contempt, barely veiled in "a lifelong game of charades," and she misses her older brother, Bruce, who fled to Oregon six years ago after a traumatic family vacation in Mexico. Beyond all that, this notion of wanting to be "original" has gotten under Sarah's skin. She worries about being dull. She wants to be a unique "snowflake," or the human equivalent of "Spain" or more like the homeless artist she calls "Alleged Earl" who angrily throws imaginary fruit at people and whose art--sidewalk chalk art smeared with his own torn-up fingers--is a "temper tantrum." After she quits school, Sarah follows Alleged Earl around obsessively until he gets his son to tell her to stop.

As she wanders the streets of Philadelphia, she's occasionally joined by a 10-year-old version of herself (a less numb one) and sometimes a 23-year-old version of herself (one less concerned with originality) and, later, a 40-year-old one who is "a lot cooler." They aren't hallucinations--her mother can see them, too. The 10-year-old Sarah remembers the heart-wrenching Mexico details that teenaged Sarah has blocked out, and bit by bit, in flashbacks, readers see how that fateful vacation played out as the "waves of crap just crashed and crashed." Sarah starts to remember her broken parents drinking too many Mango Tangos, a broken-down tourist bus, the unimaginable word divorce and, always, her abusive father's rage, anger that can smell like "trash day in mid-August."

As Sarah says, "I tell the truth slowly. I think that's how the truth shows up sometimes. Slowly." So that is how the reader is fed Sarah's narrative, including the whole story of why she really quit school. Chapters from Sarah's mother's perspective round out the novel, and the other Sarahs help put the puzzle together, too, providing a fascinating philosophical perspective on what it means to grow up and become less and less "psychic," less "holy." King's ingeniously crafted, deeply engaging Still Life with Tornado will have readers by the collar the whole time as Sarah comes to see that her family is more tornado than still life. --Karin Snelson, children's & YA editor, Shelf Awareness

Shelf Talker: In this superb YA novel, Printz Honor author A.S. King turns her surrealistic sensibilities to a 16-year-old girl who is in the midst of an existential crisis.