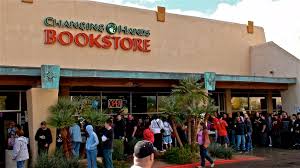 "Wherever Changing Hands is, becomes the center of Tempe. It was true when they were on Mill and it's true today about the corner of Guadalupe and McClintock," longtime customer Barbara Colby told the East Valley Tribune, which reported that even though the indie bookstore has "outgrown numerous expansions, become rated among the top indie bookstores in the country and hosted hundreds of celebrity and famous author events, it's stayed true to its humble beginnings. Especially the real lives and unique readers who come looking for answers."
Assistant manager Joel Magruder said the feeling is mutual: "I love our customers because they're actively seeking a better life, looking to know more. My proudest moments here involve drawing a crowd of people to engage about a potentially sensitive issue."
Co-owner Gayle Shanks added: "Books are the building blocks that we are talking about. They hold the ideas of our culture. People are figuring out how their worlds work while reading percolates inside their brains. As a bookseller all these many years, I just know that books change lives.... I tell our new employees, 'You can buy books anywhere. But you can't buy the experience of Changing Hands anywhere but here.' For me, that makes all the difference."