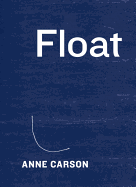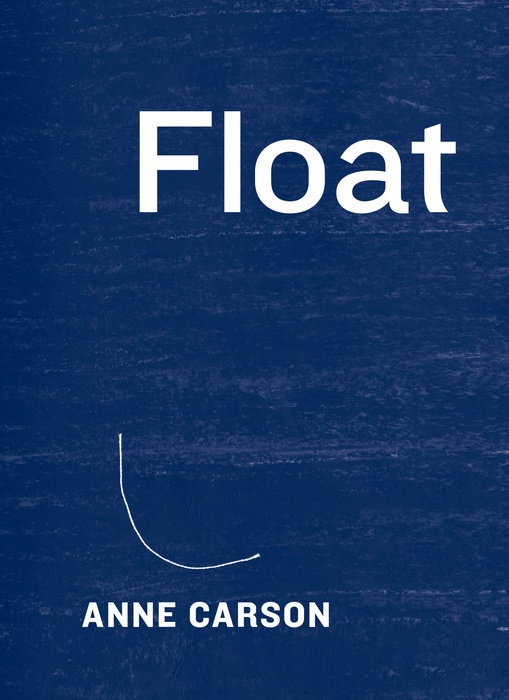 Poet, essayist, translator, critic, playwright and professor Anne Carson seems to know everything. She boasts a shelf heavy with awards (Guggenheim, Lannan, PEN, Griffin, T.S. Eliot, Pushcart, MacArthur), and her novel in verse Autobiography in Red (1998) is both a popular and literary classic. Nox (2010), an illustrated meditation upon the death of her brother, was printed on fine accordion-page paper and packaged in a exquisite collector clamshell box. In Float, Carson offers new poetry and prose presented in 23 separately bound chapters, serendipitously arranged in an attractive acetate case. It is another marriage of penetrating intellect, inspiring language and the art of the book. No wonder her public appearances attract a rock concert's kind of adoring crowd--like the 2013 New York University performance from Antigonick (her "loose translation" of Sophocles' Antigone), where 700 people tried to cram into a 300-seat theater.

Float is a stunning example of what the fuss is about. "Powerless Structures Fig. II (Sanne)," for example, is a short poem on the death of a loved one--where the narrator corrects himself: "yes we have a dog no I have a dog" and concludes "three steps up no steps down/ she dies/ in April 2010 of alcohol and indescribable longing." "Eras of Yves Klein" contains six pages of personal biographical entries about this French artist, each line beginning with "The Era of..."--including "The Era of Covering Up Rosicrucian Beliefs with the Vocabulary of Phenomenology so as Not to Be Ridiculed by Paris Intelligentsia." Another, "Maintenance," is an amusing take on upkeep--in one line asking "Is order an issue of maintenance as in in what order as in the order given in the diagram the order they came out of the box etc."

In chapter after chapter Carson surprises and practices what she called, at her NYU event, "the struggle to drag a thought over from the mush of the unconscious into some kind of grammar, syntax, human sense." She ruminates on the process of translation in "Variations on the Right to Remain Silent," citing Joan of Arc, Francis Bacon and Friedrich Hölderlin. Float also eclectically contains a sonnet sequence on the nature of the pronoun, a short prose explication of Hegel, a rumination on Gertrude Stein on Picasso, even an essay on the economics found in Homer, Moravia and Godard. It is a relief and pleasure to turn to the more lyrical poem "Wildly Constant" where the narrator reflects, "I always walk in the morning./ I don't know why anymore./ Life is short," and continues with what could be a summary description of Float: "What would it be like/ to live in a library/ of melted books?/ With sentences streaming over the floor/ and all the punctuation/ settled to the bottom as residue." A visit to the library inside Carson's head is always worth standing in line. --Bruce Jacobs, founding partner, Watermark Books & Cafe, Wichita, Kan.

Shelf Talker: In beautiful packaging and with a subtle balance of erudition, humor, criticism and lyricism, Anne Carson's Float is a jaw-dropping achievement.