Elaine Petrocelli opened the memorial at Book Passage last Friday evening to celebrate the life of Nick Setka, publisher, bookseller and man of letters, known for his generosity, curiosity and camaraderie, by saying how touched she was to see so many in attendance. The crowd included his sisters, publishers, customers and booksellers, some who had worked alongside Nick at Cody's, Black Oak or Book Passage, where he was a night manager for about 10 years.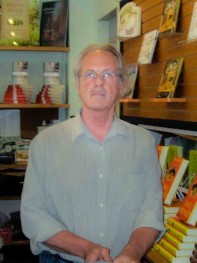 Nick Setka
Before reading from a letter sent by Setka's comrade in night-shift managing Janel Feieravend (who now lives in Arizona), Petrocelli recalled that the pair would practice their "gondola dancing," and could be caught riding fixtures between the two buildings that make up Book Passage, "sometimes at two in the morning."

Calling him "the King of Kindness," Feieravend wrote that "Nick was always the same to everyone" and naturally employed a "humanity compass" to navigate his conversations with all, even "some really weird people."

"Despite how busy he was," recalled Paul Yamazaki--who was advised by several publisher reps at the beginning of his career at City Lights to learn from Setka--it was the "grace of time he gave to all of us" that distinguishes his life. That, and Setka's deep knowledge of everything--no matter how intellectual, esoteric, radical or obscure--that lay beneath every engaging conversation he'd have with anyone about anything. "The only thing that could interrupt Nick about any of those things was baseball," said Yamazaki.

"Specifically the A's," said someone from the crowd.

Book Passage coworker Sam Barry honored Setka's musical style and his passion for social justice by playing his harmonica and leading everyone in singing "We Are Soldiers in the Army," with lyrics that include "hold up the freedom banner... we've got to hold it up till we die," and a version of "Swing Low, Sweet Chariot," that brought comfort to all who wished to "come for to carry him home."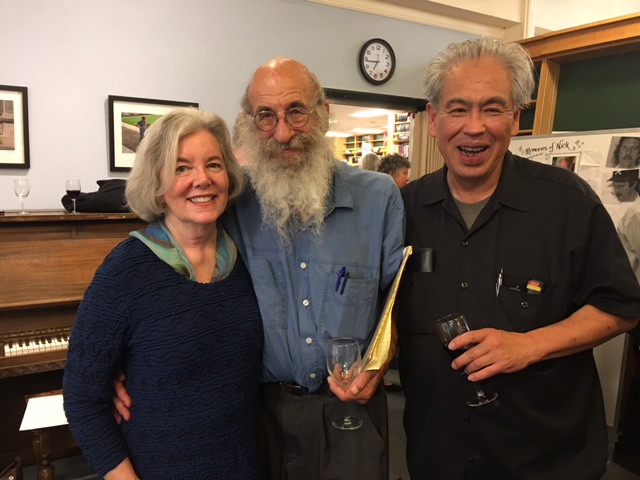 Elaine Petrocelli, Malcolm Margolin and Paul Yamazaki
Customers and coworkers shared how Setka tried to meet every reader's need by assuring them he'd have whatever book they wanted "by tomorrow," sometimes taking books from his own collection--perhaps missing a sale, but gaining a customer for life. On one occasion, not sure where to shelve a George W. Bush biography, Setka suggested the True Crime section--where it still sits face-out.

Malcolm Margolin, who founded Heyday Books in Berkeley in 1974, observed, "Nick didn't call attention to himself" and likened Setka to a Jewish brisket dish his mother used to make: as things were added, the meat was gradually taken out, leaving behind its flavor. "Nick gave everything its flavor," he said.

Lightening the mood, Mary Osborn, a Book Passage bookseller, reminded everyone that Setka was not perfect. "He locked me in the store at night twice," she said, but he also made sure newbies at Book Passage were trained to check on Mary before locking up. Osborn introduced Setka to the Progressive Populist, through copies her mother marked especially for him. "I knew something was wrong when they started stacking up," she said.

Agent and former Cody's owner Andy Ross, who admits he learned everything he knows about book buying from Setka, shared the story of how, while traveling for business, he had checked in with Setka at the store right after the release of The Satanic Verses and discovered that Setka had displayed the controversial book in the front window.

"And you wonder why you were bombed," quipped Petrocelli.

Long-time Random House rep Ron Shoop, a self-professed lapsed Buddhist, described Nick as a "divine being sent from on high to show us how things can be done." And Book Passage's Melissa Cistaro--who wrote and published her memoir Pieces of My Mother with a special brand of encouragement that was pure Nick Setka--read from a poem in two parts titled "Everything Must Go," about Setka's final book sale, bringing both tears and laughter to the crowd. It reads, in part:

"Nick is from the days when books were valued simply for their tangible spines and supple bodies
He's from the days of card-cataloging
microfilm, microfiche
and handwritten receipts
He's also a character right out of a book
yet to be written--
on generosity and grace."

"Nick will always be in our lives," said Petrocelli. "What more can we do but carry on? And feel free to put any of those (George W.) books in True Crime. Nick would want that, and so do I." --Bridget Kinsella