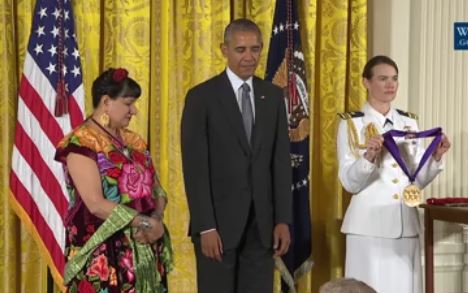 Author Sandra Cisneros was among the 12 National Medal of Arts recipients who were honored last week by President Obama. The award recognizes "individuals or groups who are deserving of special recognition by reason of their outstanding contributions to the excellence, growth, support and availability of the arts in the United States." The National Humanities Medals were presented at the same ceremony.
National Endowment for the Arts chairman Jane Chu commented: "These National Medal of Arts recipients have helped to define our nation's cultural legacy through the artistic excellence of their creative traditions, and I join the President in congratulating and thanking them for their contributions."
Cisneros was honored "for enriching the American narrative. Through her novels, short stories, and poetry, she explores issues of race, class, and gender through the lives of ordinary people straddling multiple cultures. As an educator, she has deepened our understanding of American identity."