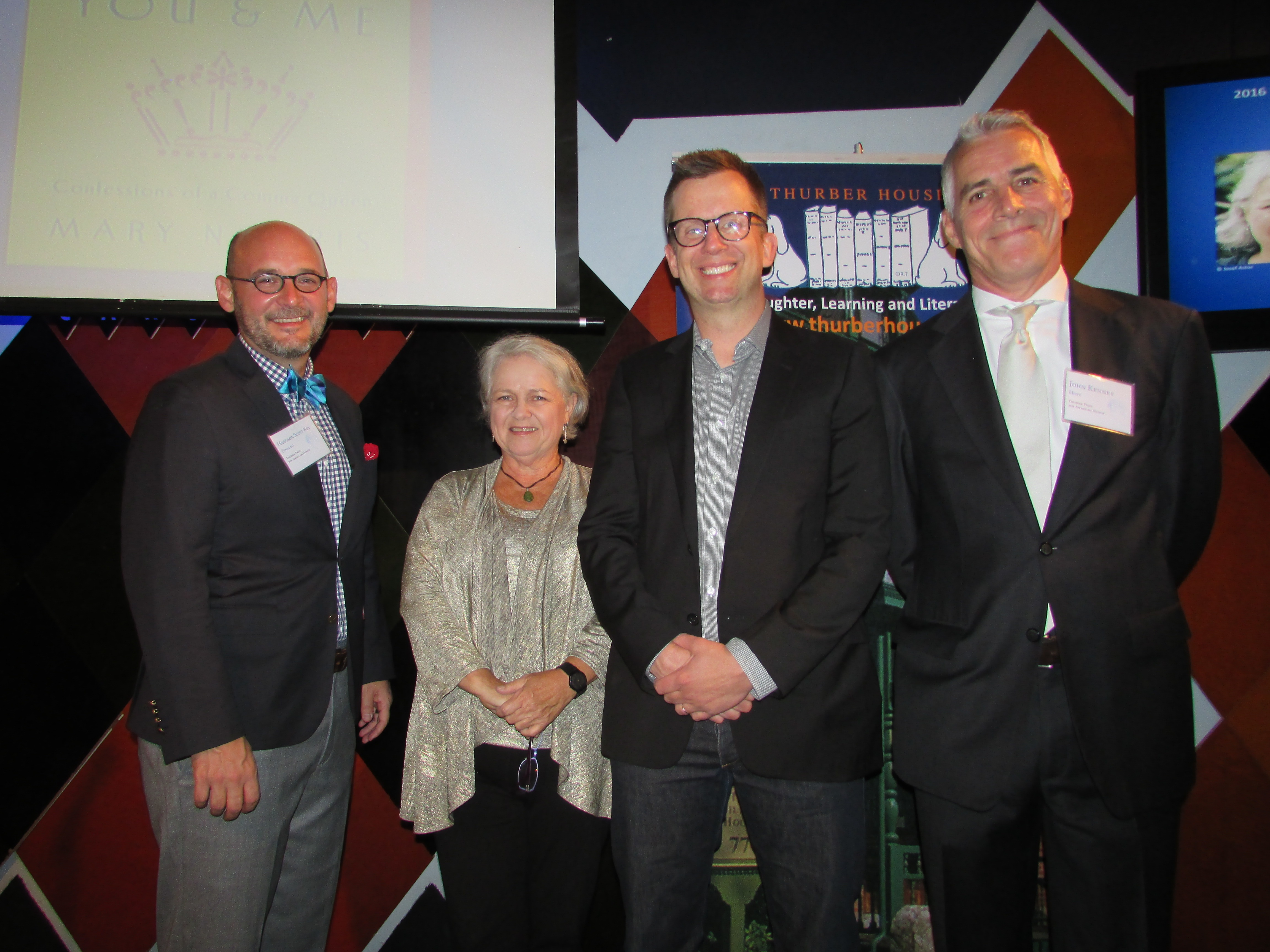 (l.-r.) Harrison Scott Key, Mary Norris, Jason Gay and host John Kenney, the 2014 Thurber winner for his book, Truth in Advertising (Touchstone). (Photo: Anne Tourvell)
Harrison Scott Key has won the 2016 Thurber Prize for American Humor, sponsored by Thurber House, for his memoir, The World's Largest Man (Harper). He received $5,000 and a commemorative crystal plaque last night at a ceremony at Carolines on Broadway in New York City.
The judges called the book "both a grand comic satire on the contemporary American South and the tender story of a boy and his Bunyanesque father, told with the comic punch of David Sedaris and the wild, burlesque charm of Mark Twain."
Runners-up were Jason Gay for Little Victories (Anchor) and Mary Norris for Between You & Me: Confessions of a Comma Queen (Norton).

---

A shortlist has been released for the Scotiabank Giller Prize, which recognizes the best Canadian novel or short story collection published in English. The winner receives C$100,000 (about US$75,725) and the other finalists $10,000 each. The winner will be named November 7. The shortlisted authors, all of whom are honored for novels, are:

Mona Awad for 13 Ways of Looking at a Fat Girl
Gary Barwin for Yiddish for Pirates
Emma Donoghue for The Wonder
Catherine Leroux for The Party Wall, translated by Lazer Lederhendler
Madeleine Thien for Do Not Say We Have Nothing
Zoe Whittall for The Best Kind of People