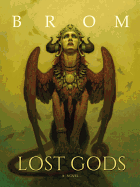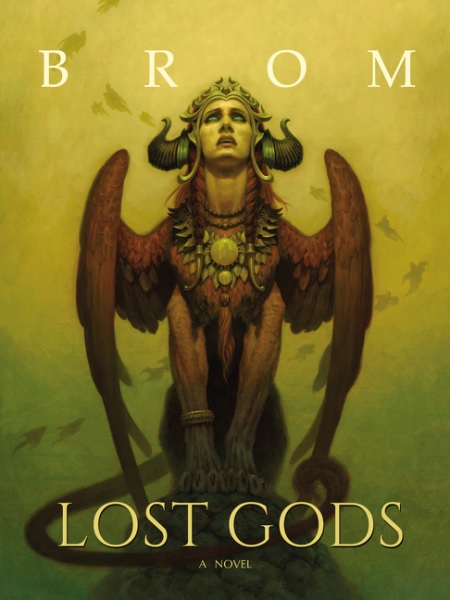 With Lost Gods--a wandering soul's epic journey through a Purgatory torn by war--dark fantasist Brom (Krampus: The Yule Lord) once again brings life to a host of fiends and nightmares in both prose and images (an 8-page color insert and 10 black-and-white pictures).

Chet Moran, a small-time drug dealer in 1976 Alabama, comes off a seven-month jail sentence with a fresh perspective on what matters in life. He swaps his beloved '65 Mustang for $2,000 and a sad Ford Pinto, buys a wedding ring and sets out to win back his pregnant wife, Trish. Since Trish's father, Judge Wilson, literally wants to kill Chet, their reunion consists of him sneaking into her bedroom at her parents' house and asking her to run away with him. After extracting a promise that Chet will leave behind his checkered past, Trish agrees, but the lovers are caught by the Judge's friends Tom and Coach. In his haste to escape, Chet hits Coach with the Pinto, killing him. Fleeing to South Carolina, Chet and Trish take refuge at the home of his maternal grandmother, Lamia, a powerful witch with whom he shares a psychic connection. Lamia offers the couple sanctuary and healing, but a betrayal leaves Chet murdered and the soul of his unborn child vulnerable to an ancient, deadly evil.

His soul cast adrift, Chet accepts a mission from Senoy, an angel trapped on earth. If he searches Purgatory and locates the angel's key--stolen by Chet's long-dead grandfather--the angel can restore the balance of life and death, saving Chet's child. Chet, unfortunately, enters a nether realm amidst revolution as demons battle for rule against failing ancient gods. To find his grandfather, Chet must brave terrifying monsters, gladiatorial combat against his fellow dead (including Coach) and even his grandfather, a madman who murdered Chet's uncles as boys. Although dead, the torture and violence Chet faces far outstrip any pain he knew in life.

Clearly influenced by Dante Alighieri's Divine Comedy, Brom's underworld combines elements of Catholicism, ancient mythology and pulp horror tradition for a sprawling quest powered by his versatile imagination. Compelling though a battle for an infant's soul may be, the spider goddess Yevabog and sphinx-like Red Lady exert a powerful draw of their own. Brom's Purgatory is a vast country with its own history, government and social customs. Chet's entanglement in the rivalry of its power players, while Trish struggles to protect their baby in the mortal world, pulls readers into a luxuriantly creative and emotional landscape studded by darkly elegant illustrations. --Jaclyn Fulwood, blogger at Infinite Reads

Shelf Talker: Accented by illustrations from the author, Brom's dark fantasy underworld alludes to Dante as his dead protagonist searches Purgatory for the key to saving his daughter.