Shelf Awareness sorted through piles of mostly orange-and-black children's books to find the most delicious Halloween-time offerings of 2016.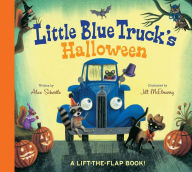 Little Blue Truck's Halloween by Alice Schertle, illus. by Jill McElmurry (Houghton Mifflin Harcourt, $12.99, board book, 9780544772533, 16p., ages 2-4, July 5, 2016)
Little Blue Truck fans will rejoice to see the beeping, headlight-eyed vehicle back in action, this time in a sturdy lift-the-flap board book that introduces the idea of Halloween costumes to the very youngest readers. Purple-hatted Toad is driving Little Blue to a Halloween party when they see a duck disguised as a ballerina: "Who's that in a tutu/ striking a pose/ up on the tiniest/ tips of her toes?" Lift the flap and the disguise is revealed: " 'Quack!' says the duck. 'It's me! It's me!' " All the costumed animals they encounter hop aboard the truck (even the cow) until everyone's at the party... except... where did Little Blue go? "Beep! Beep! Boo!"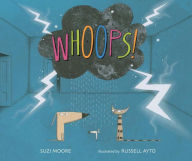 Whoops! by Suzi Moore, illus. by Russell Ayto (Templar/Candlewick, $16.99, hardcover, 9780763681807, 32p., ages 3-7, February 9, 2016)
In the rhyming British import Whoops!--with its clean design and stylized illustrations--a wise old owl suggests that a meow-less cat, woof-less dog and squeak-less mouse visit a little old lady he knows, so she can cast a "fixing spell" on them in her "tumbledown house": "The wind blew in,/ and the rain came down./ Then the tumbledown house/ turned around and around." (And, whoops is right. The cat clucks, the dog quacks and the mouse says Cock-a-doodle-doo!) It never quite works out as anyone would hope. Plenty of drama, repetition, and exciting sound effects make this a terrific read-aloud for any time of year.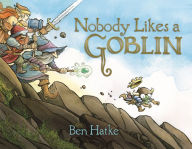 Nobody Likes a Goblin by Ben Hatke (First Second/Roaring Brook/Macmillan, $17.99, hardcover, 9781626720817, 40p., ages 4-8, June 7, 2016)
It's a typical morning for Goblin. He wakes up in the dungeon, feeds the rats and gnaws on an old boot for breakfast. He decides to go visit his best friend Skeleton in the Treasure Room. Just as he's trying on an old golden crown, the dungeon is stormed by adventurers who steal everything, including Skeleton. Donning his Goblin King crown, tiny Goblin walks out into "the wide world" to find his friend. His neighbor, the troll, warns him to be careful out there because "Nobody likes a goblin." In this wonderfully illustrated fairy tale, Goblin marches through the land undeterred by unfriendly elves and humans until he bravely saves his best friend and makes some new ones while he's at it.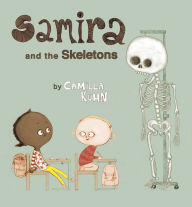 Samira and the Skeletons by Camilla Kuhn (Eerdmans, $16, hardcover, 9780802854636, 34p., ages 5-8, March 1, 2016)
It's always fun to remind people that we all have skeletons inside us. But Samira isn't handling the teacher's news well: " 'No way!' Samira shouts. 'I do NOT! And neither does Frida!' " Kuhn cleverly shows how Samira now perceives her classmates: creepy little skeletons in T-shirts with backpacks. When Samira tells her mother she wants to get rid of her skeleton and be as boneless as an octopus, her mom plays along, to a point. The real punch line comes when the teacher's lesson plan turns to muscles: "Exactly like a steak." This charmingly illustrated Norwegian import offers a quirky, comical perspective on basic anatomy.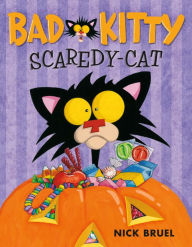 Bad Kitty Scaredy-Cat by Nick Bruel (Neal Porter/Roaring Brook/Macmillan, $16.99, hardcover, 9781596439788, 32p., ages 5-8, August 9, 2016)
Before Bad Kitty was a scaredy-cat, she was (from A to Z) angry, brave, clumsy... all the way to exasperated, youthful and zestful. She becomes a scaredy-cat when the first Halloween trick-or-treaters, "horrible and frightening creatures," ring the doorbell. From A to Z, they are an awful alien, a bizarre Bigfoot, a creepy clown... all the way to an extremely exotic X-ray creature, a yucky Yeti and a zany zombie. But when Bad Kitty finds out treats are involved, from apples to zoo animal crackers, she toughens up and goes on the attack, gnawing on the goblin and mauling the mummy. Will she ever be scaredy-cat again?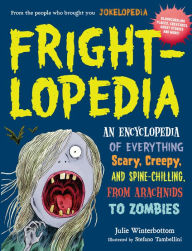 Frightlopedia: An Encyclopedia of Everything Scary, Creepy, and Spine-Chilling, from Arachnids to Zombies by Julie Winterbottom, illus. by Stefano Tambellini (Workman, $9.95, paperback, 9780761183792, 224p., ages 8-12, August 23, 2016)
"Being frightened, but knowing that you are not truly in danger, can feel deliciously good," says the introduction to Frightlopedia, an alphabetized encyclopedia that embraces potentially unsettling subjects like arachnids, catacombs, death, ghosts, haunted houses, monsters, mummies, nepenthes (the flesh-eating plant), Transylvania, vampire bats, werewolves, witches and zombies. Facts, myths and activity ideas (how to make fake blood!) bubble and pop in this lively, illustrated guide that even teaches readers how to say "Boo!" in 15 languages. --Karin Snelson, children's & YA editor, Shelf Awareness