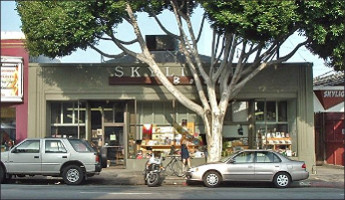 Congratulations to Skylight Books in Los Angeles, Calif., which is celebrating its 20th anniversary throughout the month of October with discounts, special events and new merchandise.
For the first four weekends in October, Skylight will offer 15% off different sections in the store: October 1-2, children's and young adult books; October 8-9, film, music and fashion; October 15-16, art and photography; and October 22-23, California history and culture, along with California travel guides. On the final weekend of the month, October 29-30, Skylight will give a 20% discount on everything in the store, minus some nonbook items and event tickets. And during that weekend, Skylight will host two anniversary parties: a cocktail party on Saturday, October 29, and then a children's brunch and story-crafting workshop on Sunday, October 30, with middle grade author Pseudonymous Bosch (The Secret Series and The Bad Books).
Skylight Books is also releasing some new, limited-edition store merchandise, including bookmarks featuring work by artists Jaime Hernandez (Love and Rockets), Esther Pearl Watson (Unlovable) and Vanessa Davis (Make Me a Woman); an original print from Yumi Sakugawa (There Is No Right Way to Meditate); a new T-shirt design; a new tote bag design; and a poster featuring the store's all-time bestsellers created by assistant manager Jenn Witte.
And last but not least, Skylight Books will be giving back this October by raising money for the Literally Healing campaign of Children's Hospital Los Angeles.