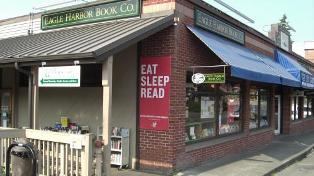 Jane and Dave Danielson, who bought Eagle Harbor Book Company, Bainbridge Island, Wash., in June, have been making some changes, and one of the biggest has come from asking customers what they wanted. As the Danielsons wrote in a letter to customers earlier this month, "The main thing we learned was this: You want more books!"
As a result, the store is in the process of nearly doubling its selection of books, "with over 6,000 carefully selected additional books coming in." Among the areas in which customers said they wanted more selection, the store said, were "history, cooking, religion, writing, and women and gender studies, to name a few. We were reminded that the increasing diversity of our community and our world should be reflected throughout the store, particularly in the areas of poetry and art, but also literature and social sciences. In this election year, many of you would like to see more selections relating to civics and politics."
At the same time, the store is continuing its strong author events program, which benefits in part from the many writers who live on Bainbridge Island. This fall's events at Eagle Harbor Book Company include appearances by Alexander McCall Smith, actress Jane Alexander; Lynn Brunelle, whose Big Science for Little People: 52 Activities to Help You and Your Child Discover the Wonders of Science, has just been published by Roost Books (the book launch included science experiments!); David James Duncan, author of The River Why (Back Bay); and George Lakey, author of Viking Economics: How the Scandinavians Got It Right--And We Can, Too (Melville House).