The Book Industry Study Group celebrated its 40th anniversary at a busy, well-attended annual meeting in New York City on Friday. Several past and present leaders of BISG spoke at length about the group's many accomplishments over the years in a range of related areas, particularly involving standards and metadata, that are crucial to the smooth functioning of the book business today. These include the development of EDI; bar code, metadata and shipping standards; BISAC subject codes; ONIX and more.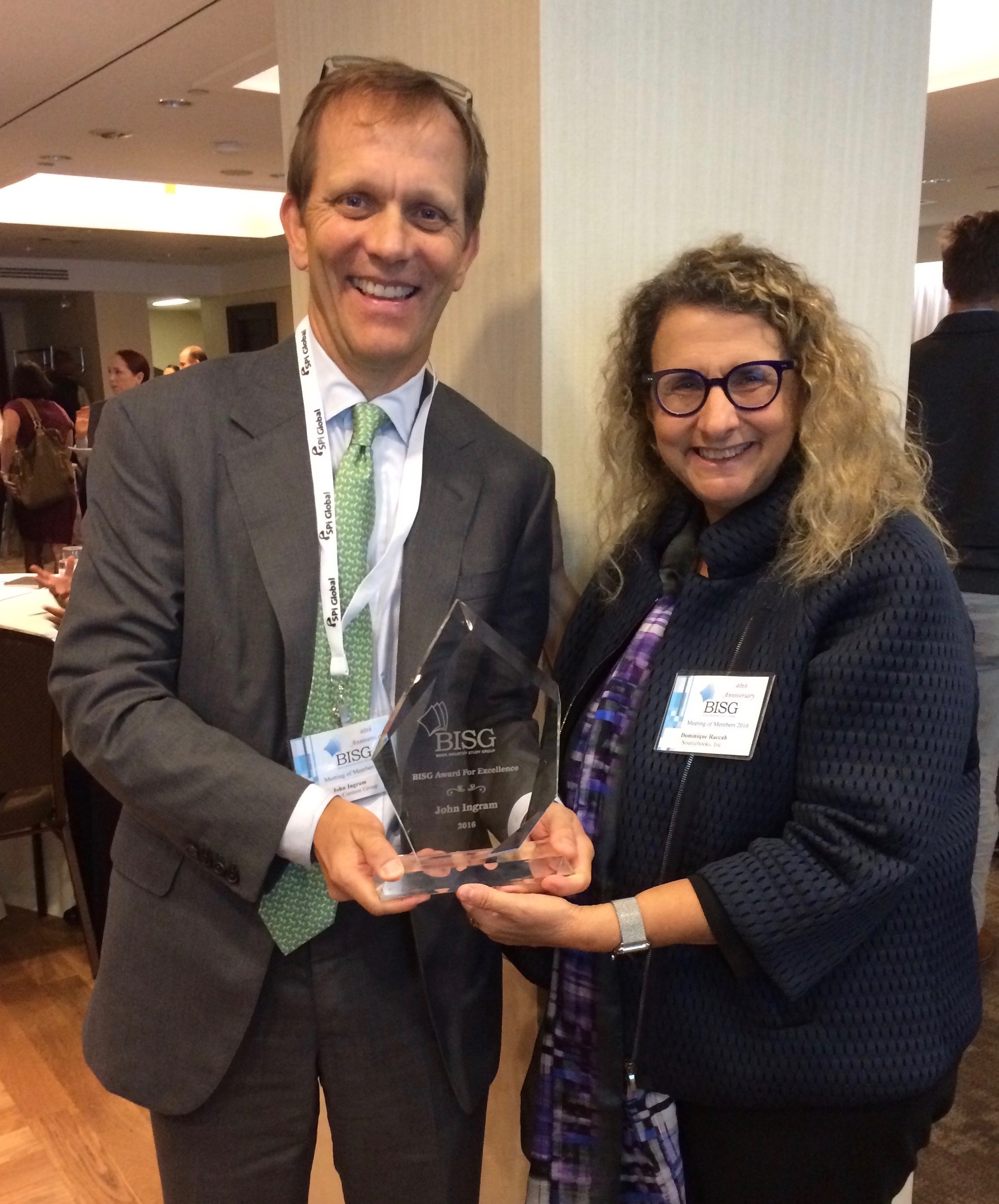 John Ingram and Dominique Raccah
The organization officially and unofficially honored many of its own. John Ingram, chairman of the Ingram Content Group, won the Award for Excellence, the first time the award has been given. Presenting the award, Sourcebooks founder and CEO Dominique Raccah noted that Ingram has led Ingram Content Group "in its successful transformation from a book wholesaler to an industry-leading, innovation-driven company, pioneering print on demand technologies, and a whole array of physical book distribution and digital products, all in service of helping publishers connect better with readers."

Ingram responded in part by saying that collaboration with groups like BISG "has been a big part of Ingram's transformation" and that the company is "committed to transforming and staying relevant to better our industry, to help our colleagues and friends find success, and to ultimately keep getting books in all forms into the hands of readers around the world."

Raccah herself also won the BISG Industry Innovation Award. Accepting the award, she said innovation consists of three things: it's "customer-centric"; it involves trying again and again, often failing; and it's about mindset. Noting that "our industry is often thought of as the hallmark of stuck," she pointed out that it's actually an industry that has "embraced change.... We've embraced a mindset that allows us to drive through and innovate... breaking the norms of what media transformation can and should look like."

Among other honorees were Tzviya Siegman of Wiley Information for Most Valuable Volunteer and George Kerscher of the DAISY Consortium and Benetech, and president of the International Digital Publishing Forum for Industry Champion.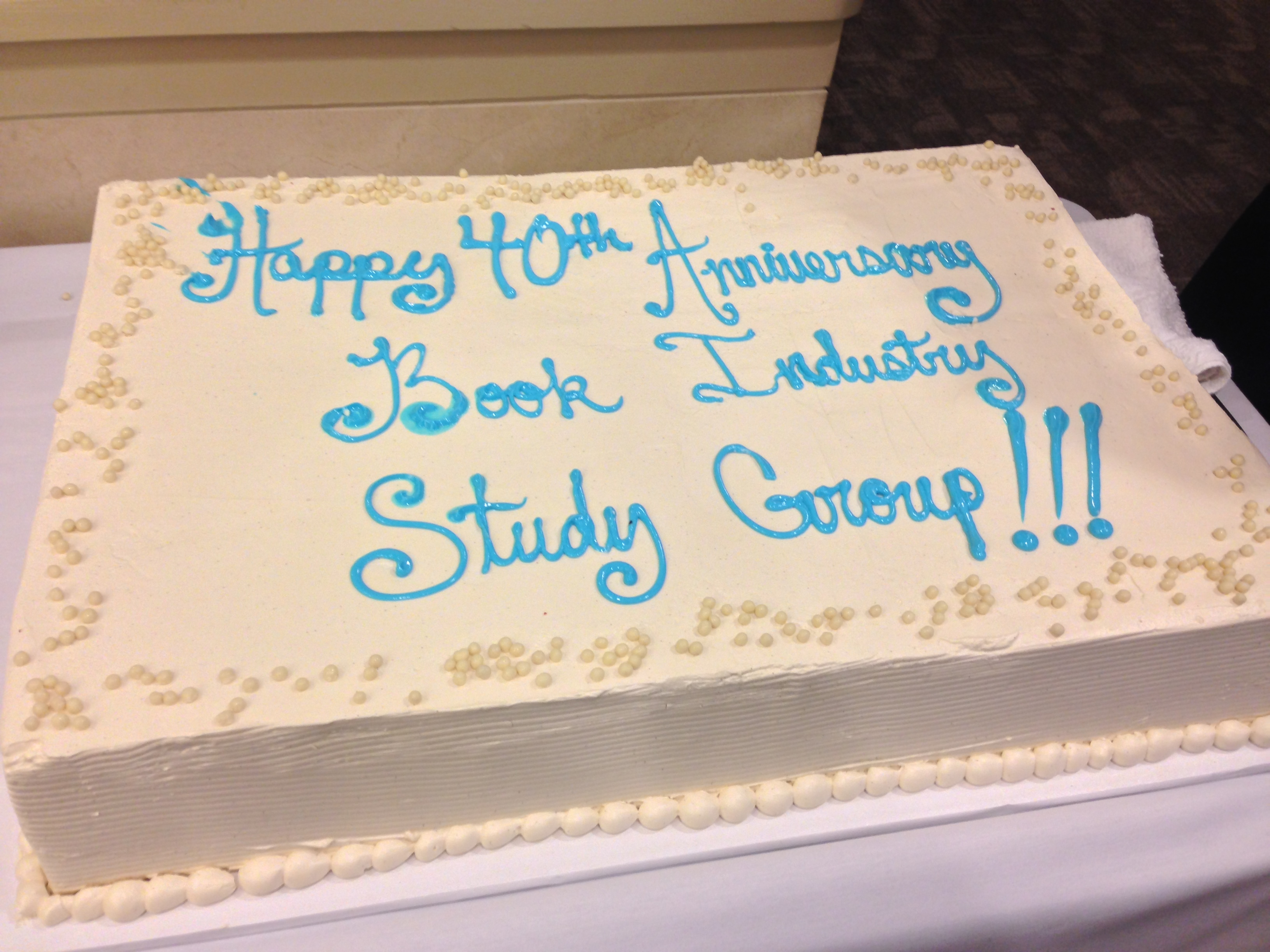 The new executive director of BISG, Brian O'Leary, whose first official day is today, was on-hand. There appeared to be a consensus that his appointment was a happy turning point after what some called a "tumultuous" year in which executive director Mark Kuyper abruptly resigned in August after barely a year in office and most staff had left.

O'Leary said that he has been impressed by "the coherence and the credibility" of the strategic plan BISG is working on that will be introduced soon and whose goals are "member-facing, relevant, measureable and doable." He offered a "condensed version" of the previous mission statement, saying that BISG aims "to create a more informed, empowered and efficient book industry," and emphasized that BISG cannot be "everything to everybody" but has to find common areas of friction where solutions helps many across the supply chain.

Among the strategic plan's four objectives are information ("we want to be the information hub for the book industry supply chain"); membership ("we want to maintain a growing and diverse membership because that's a critical component to solving the problems") and avoiding solutions that favor one company or group; standards (always "a critical piece of the puzzle"); and research, which used to have more of an emphasis at BISG and which the organization wants to reemphasize.

Treasurer Maureen McMahon of Kaplan Publishing noted that during the year, BISG shifted to cash from accrual-based accounting, which caused "a little bit of chaos in our financial reporting" since the staff changed completely. Auditors also found significant problems in financial reporting, particularly tracking member dues. Those problems are being addressed with new software. BISG also plans to move from its current offices in midtown to "a more flexible workspace" that will save several thousand dollars a month.

Although it was a "tough year," Peter Balis of Wiley said called it "a productive year. We got a lot done." BISG's membership roll grew to 184 from 178. Among the accomplishments: advances were made in EPUB3; the Quick Start Guide to Accessible Publishing launched; a revised Guide to Identifiers was issued; more than 500 additional subject codes were added, the majority of which involved YA; BISG conducted a survey with the ALA of library patrons' views on digital content; and three ONIX workshops,led by Graham Bell of Editeur, were held in Nashville, Chicago and Boston. (See tomorrow's issue for coverage of a panel on transformation in the industry.) --John Mutter