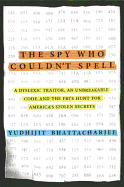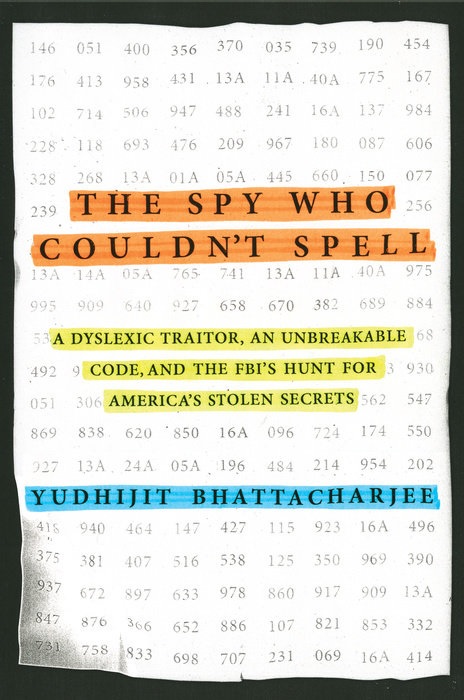 Like the FX show The Americans in a contemporary setting, or a John le Carré novel, The Spy Who Couldn't Spell is the dramatic nonfiction story of the pursuit, capture and conviction of United States spy Brian Patrick Regan. Based on his 2010 article in Wired, Yudhijit Bhattacharjee's first book is both an engaging thriller and a timely peek inside the machinations of the U.S.'s security bureaucracies. Regan was a master sergeant analyst with the semi-secret, multibillion-dollar-budgeted National Reconnaissance Office (NRO), where his high security clearance gave him access to the complete infrastructure of the U.S. satellite surveillance apparatus and to the top secret Intelink intranet database used by the country's intelligence agencies. In the late 1990s, he accumulated more than 20,000 pages of documents, CD-ROMs and videotapes with details of the entire U.S. air defense and surveillance systems, and then secreted them out of his restricted-access building in a gym bag with the intent to sell them to "Axis of Evil" countries--or whomever would pay. When a confidential informant intercepted a Regan packet on its way to the Libya consulate, FBI Special Agent Steve Carr was assigned what became the biggest case of his young career.

A longtime staff writer for Science, Bhattacharjee extensively researched court and other public documents, and conducted numerous interviews with Carr and Regan's colleagues and family. Dropping chapter teaser clues, leaving trails of red herrings and switching focus between the pursuer and the pursued, he builds his story of a paranoid belt-and-suspender amateur spy and the relentless, rigorous agent on his trail. No master spy with years of tradecraft experience, Regan was just a methodical hoarder with a vague plan and a cryptographic trail of spelling errors. He was also a six-foot-four, overweight man who grew up bullied for his dyslexia and his doltish communication skills. With a wife and four young kids, he was up to his eyeballs in credit card debt and angry about his government salary and meager pension. As he admitted after sentencing, "I didn't want anybody to get killed. I just needed the money. I thought I could get some cash to solve my problems."

Alongside news of WikiLeaks, Snowden disclosures, the Panama Papers, The Spy Who Couldn't Spell is as real as it gets. Cryptography, hard drive scrubbing, server spoor tracking, old-school surveillance tails and wiretaps, psychological profiling and high-definition courtroom drama: Bhattacharjee tells a story that would make a kickass movie. Once Regan's stolen documents were recovered, Carr discovered that their potential damage to United States defense was worse than anyone imagined: "an intelligence disaster on an unparalleled scale, potentially undermining the U.S. military for decades." Hardly just another season of The Americans. --Bruce Jacobs, founding partner, Watermark Books & Cafe, Wichita, Kan.

Shelf Talker: With a gradual escalation of mystery and suspense, The Spy Who Couldn't Spell tells the fascinating story of a contemporary spy and the team that caught him.