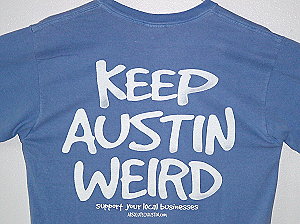 Although "Keep Austin Weird" was coined 15 years ago by librarian Red Wassenich, it was quickly "adopted when Steve Bercu, owner of the Austin, Texas, bookstore BookPeople, needed a slogan to rally objection to a planned Borders store a few blocks away. Bercu convinced John Kunz, the owner of nearby Waterloo Records, to join the keep-it-local cause. They printed 5,000 bumper stickers urging citizens to KEEP AUSTIN WEIRD and flanked the message with their business logos. The stickers flew off the shelves. And the Borders bookstore was never built in downtown Austin," wrote Elizabeth Devitt and Juli Berwald in a recent Slate piece headlined "Weird's Worth."
"WEIRD resonated really well here. The point was to support local businesses. Everyone got it immediately," said Bercu, who estimates he's given away more than 300,000 stickers.
In California, Bookshop Santa Cruz's Neal Coonerty adopted the idea after talking with Bercu and printed KEEP SANTA CRUZ WEIRD stickers. "We don't want to become just another gentrified suburb of Silicon Valley," he said. "The main street of our downtown is more than just an exchange of goods, it's where the community expresses itself with street artists, political tabling, and one-of-a-kind parades. We want to make sure it stays that way."
Weird campaigns "have spread to communities in more than a dozen states," Devitt and Berwald wrote. "What do they all have in common? The cities have fewer than one million people, but most are growing. Many are state capitals or county seats and most have a vibrant arts scene. They all seem to have a strong sense of what makes them unique, and a grassroots urge to stay that way."