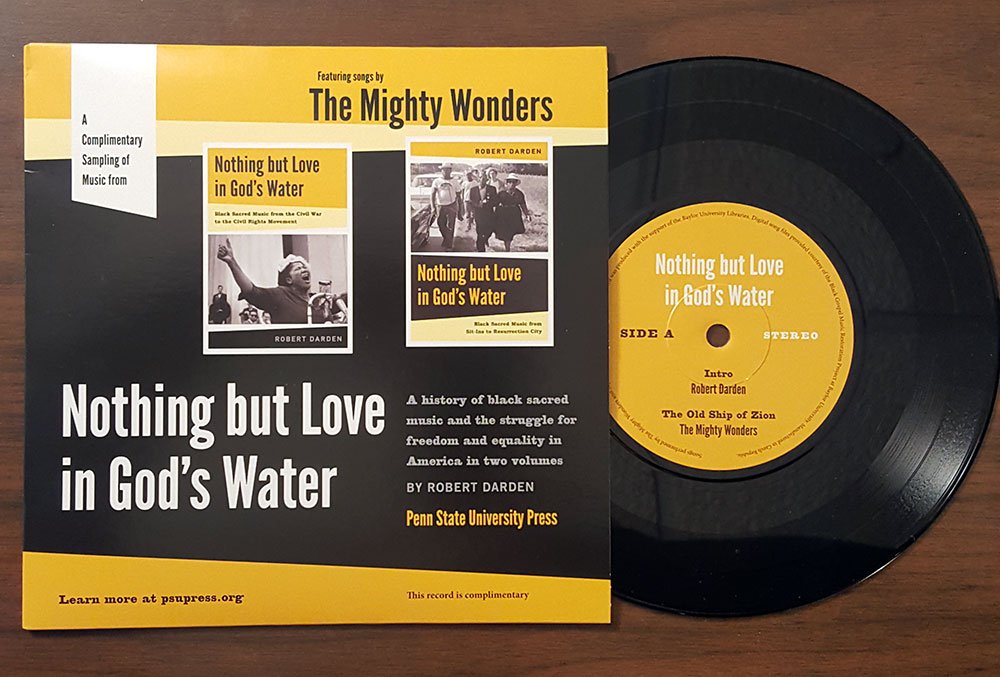 To promote the newly published second volume of its two-volume Nothing but Love in God's Water by Robert Darden, Penn State University Press is distributing a complimentary sampling of music on a 33 rpm record about the size of an old 45; it includes a brief introduction by the author and renditions of "The Old Ship of Zion" and "How Far Am I from Canaan?" by the Mighty Wonders, a group that formed in the late 1960s in Aquasco, Md.
The books focus on the role of spirituals, hymns, gospel and other black music in the struggle for African-American freedom and equality in the U.S. The first volume, subtitled Black Sacred Music from the Civil War to the Civil Rights Movement, was published in 2014. Volume 2, subtitled Black Sacred Music from Sit-Ins to Resurrection City, appeared last month.
Besides being used for publicity, the sampler records are being distributed to bookstores to place by cash registers or near the books, and to give to customers at no cost. Stores around the country, including Red Emma's, the Ivy Bookshop and Atomic Books in Baltimore, Md.; Politics & Prose, Washington, D.C.; Powell's Books, Portland, Ore.; Eso Won Books and Skylight Books, Los Angeles; and Seminary Coop in Chicago, are stocking the records. The records will be available through the press's reps at regional booksellers association shows, including the Heartland Fall Forum this week and the NCIBA fall discovery show later this month.
According to Brendan Coyne, sales & marketing director at Penn State University Press, the press may eventually sell the two books as a set and package a record with them.