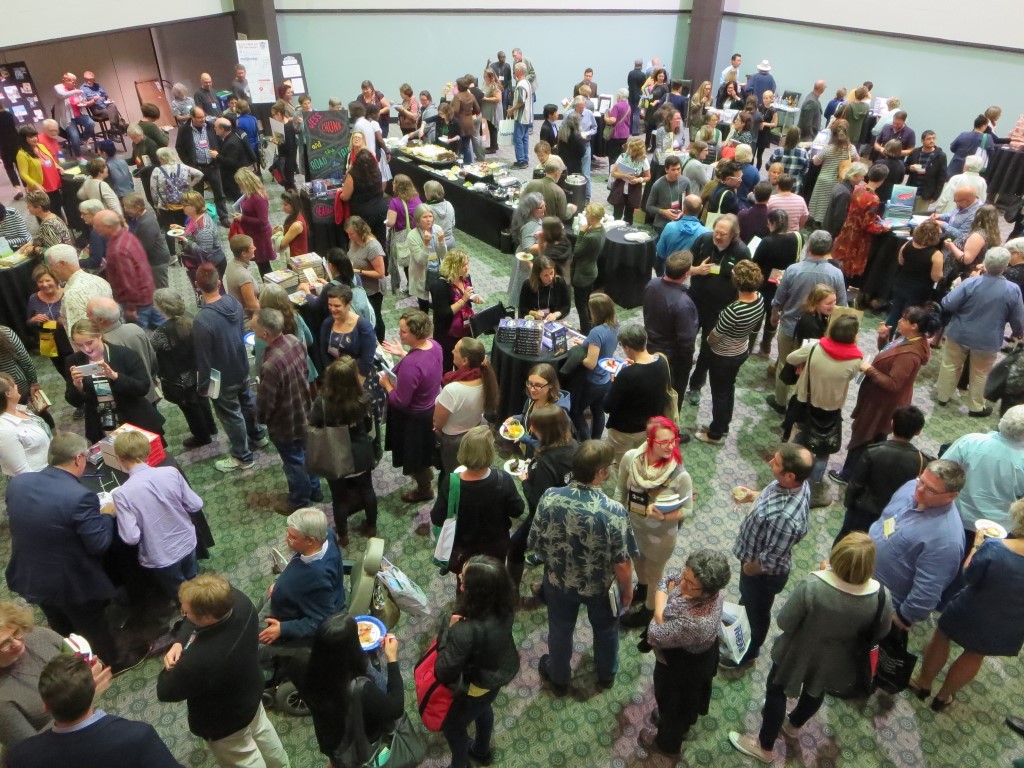 Saturday's Sweet and Greet, sponsored by Sasquatch Books.
Booksellers gathered around tall café tables to collect autographs from 20 authors who showed off their fun visual aids--from homemade pies to dissected owl pellets--at the Pacific Northwest Bookseller Association Sweet and Greet event, which closed the second day of the show last weekend in Tacoma, Wash. Brian Juenemann, the new executive director of the PNBA, who continues as marketing director, looked over the crowd of more than 150 booksellers and said enthusiastically, "Exhibitors are up, our attendance is at level or higher." Enthusiasm and optimism permeated the membership meeting and the trade show floor. In fact, Juenemann continued, the organization is "overall working fabulously. If we can evolve it, and diversify, and inject some energy into it, while moving forward and having a good time that is productive to what you do professionally, what more could we ask for?"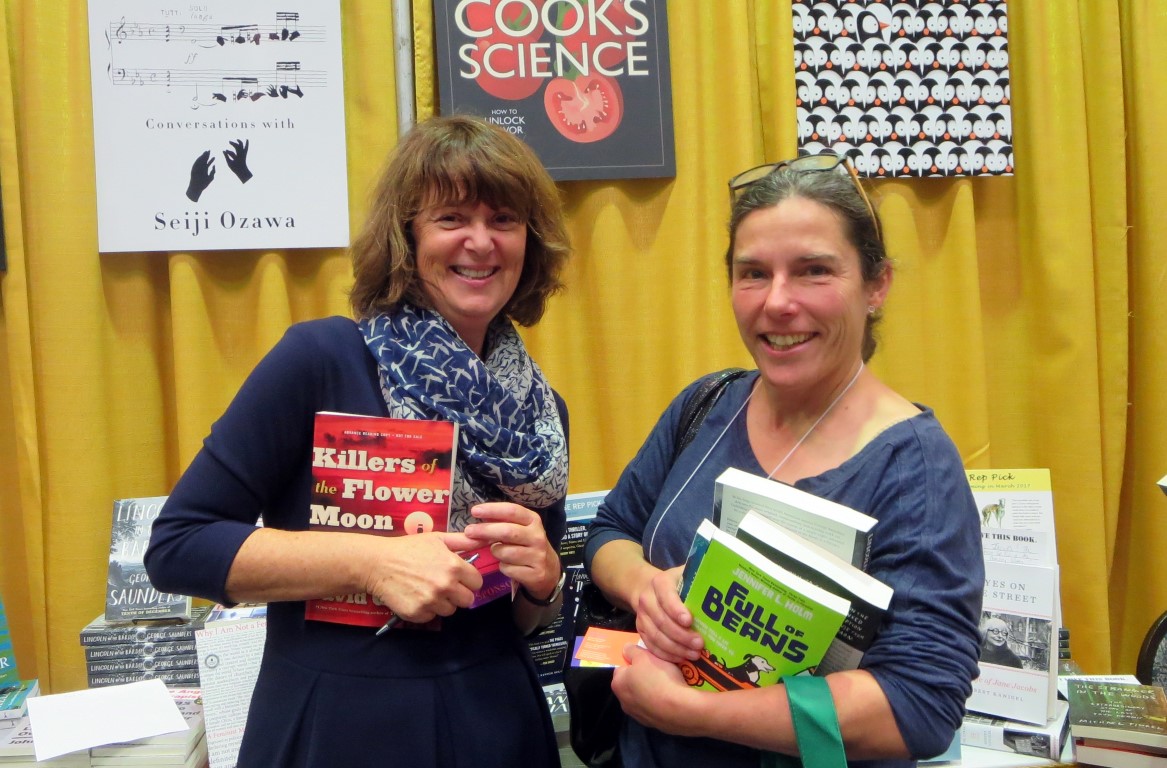 Random House rep Katie Mehan (l.) with Liz Goodwin, Phinney Books, Seattle
At the show's education sessions, booksellers shared tips and tricks for business success with one another, and a panel of librarians, reps and booksellers discussed their varied approaches to book recommendations, events and customer service. Bookstore event staff and authors shared event strategies, and booksellers discussed cost of living, personal budgeting and asking for raises in "Bookseller Financial Planning." In a sign of their importance, "Advanced Social Media" and "Diverse Reading" drew standing-room-only audiences.
Diversity was a constant topic at PNBA. Booksellers reflected on representation among show participants, scheduled presenters and their own reading recommendations. Kenny Coble from King's Books, Tacoma, encouraged booksellers to be vocal and demand more diverse options from reps and to reach out to fellow booksellers for recommendations to expand their store's offerings. "We drive sales and make bestsellers," Coble said, "and we're here for each other to steal ideas from each other."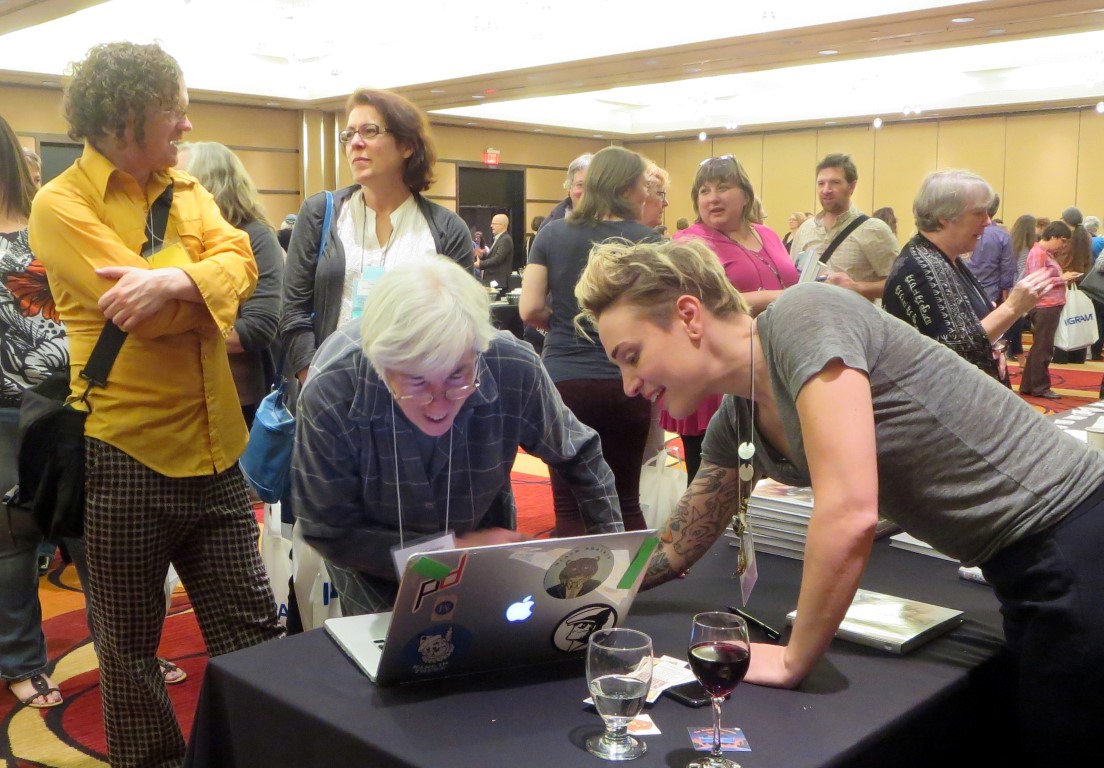 L.-r.: sweet pea Flaherty, KIng's Books, Tacoma; Lisa Bitney, Tacoma Pubic Library; PNBA volunteer Chris Vietmeier; author and pet photographer Carli Davidson (Lick Cats and Lick Dogs, Harper Design)
Juenemann also called on booksellers to express their desires and expectations about programming and representation. At present, he said, only 10%-15% of show attendees respond to the e-mail feedback request and checklist for the next show's projected authors. One of his goals in his new position, Juenemann says, is to encourage members to be more interactive throughout the year, whether by responding to information requests and news items or commenting on Northwest Booklovers blog posts or joining a committee and getting directly involved. "Give us feedback," Juenemann said. "Come to me. Let's talk. As the business evolves; PNBA needs to evolve."
The Indie Forward meet up hosted by King's Books was a soft launch for a new nationwide, volunteer-run group devoted to encouraging emerging generations of booksellers. Seattle booksellers Sam Kaas, Third Place Books, and Kim Hooyboer, Elliott Bay Book Company, said that the group intends to offer career development, networking and mentorship. "We're interested in social media, changing perspectives on diversity and making bookselling viable," Kass explained. Tegan Tigani of Queen Anne Book Company, Seattle, and former PNBA president, applauded the efforts to encourage a new generation of booksellers. "It's totally in line with PNBA values," Tigani said. "It's not just success; it's succession."
It was clear in the enthusiasm and the willingness to engage and discuss the organization's evolution that booksellers in the region understand the value of their role in the community. At the Saturday author breakfast, Lidia Yuknavich reminded them of this when she said, "I'm here because of you, because you had a book of mine in your hand and you passed it to one other person. So, can I just thank you for giving me a life?" The breakfast crowd broke into applause. --Kristianne Huntsberger