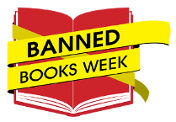 The ABA's American Booksellers for Free Expression is asking booksellers to help plan next year's Banned Books Week by filling out a short survey on their experiences during this year's event, which ended last Saturday. This year more than 500 bookstores had displays of banned and challenged titles, and seven stores put on a joint event, "A Night of Silenced Voices," which was held on the second day of Banned Books Week.
"We always want to be trying new things, and the bookseller feedback we get from our surveys always provides input and suggestions that make Banned Books Week more successful," said ABFE director Chris Finan.
The survey will ask about expanding the idea of joint programming next year, evaluate the promotional kit that ABFE distributes to participating stores, and seek other suggestions for improving Banned Books Week.